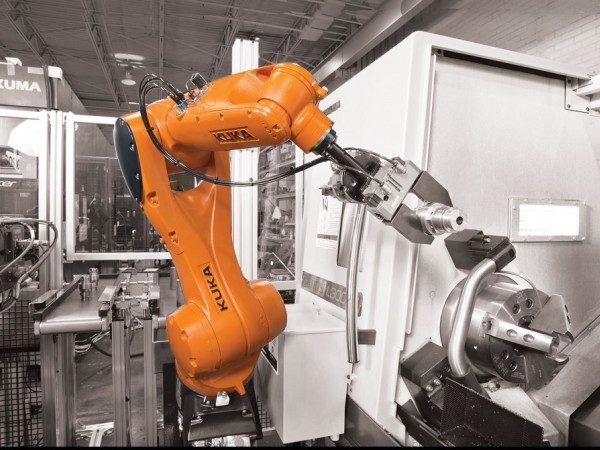 CAPABILITIES OF THE CUTTING, GRINDING, AND WELDING INDUSTRIAL ROBOTS
Safety, in these otherwise dangerous processes, is paramount when deciding on investing in robotic solutions for cutting, grinding, and welding. Whether it's plasma, laser, or waterjet cutting, these robots achieve impressive precision, speed, and efficiency.
With this robotic system, you can input CAD files. With them, you can be sure all details will be performed with high speed and precision, regardless of the shape or the material of the item, industrial robots will be handling and working with.
Depending on the tool or gripper, industrial grinding robots will be removing the excess material from any surface. Different models have different reach and payload capacities - *See the table below. It's important to stress, that with the robotic solutions you avoid the unnecessary risks of inhaling harmful metal or another type of dust.
Arc, spot, or laser welding with robots guarantees continuous operation, 100% workload, and low operating costs, leading to extremely efficient processes and a quick return on investment. Lowering your operational costs leads to lower-end products prices and competitiveness for your business.
APPLICATIONS OF THE CUTTING, GRINDING, AND WELDING INDUSTRIAL ROBOTS
Industrial cutting, grinding and welding robots are used in metallurgy and also for abrasive materials, stone, sheet metal, or profiles processing. They are also suitable to produce components and spare parts, machinery construction, and containers building. Entire ships or other steel structures can be processed in a very cost-effective way.
With the help of high-frequency sensors and 3D measurement, you achieve fully automated recognition of the position of all parts and items.
THE MAIN BENEFITS OF THE CUTTING, GRINDING AND WELDING INDUSTRIAL ROBOTS
Small footprint and lower space required for installation;
Fast integration into new or existing systems;
Complete software and hardware support for robots and system integration;
Safety for staff and operators;
Exceptional precision when cutting, grinding, and welding;
Errors elimination, high profitability, and fast ROI;
CUTTING, GRINDING, AND WELDING MODELS
Payload capacity
Reach
Axis
KR CYBERTECH
8 – 22 kg.
1612 – 2013 mm.
6
KR CYBERTECH nano
6 – 10 kg.
1420 – 1820 mm.
6
KR 30
16 – 30 kg.
2033 – 3102 mm.
6
KR IONTEC
30 – 70 kg.
2100 – 2500 mm.
6
KR QUANTEC
120 – 300 kg.
2700 – 3100 mm.
6
KR QUANTEC nano
120 – 180 kg.
1573 – 2100 mm.
6
KR QUANTEC pro
90 – 120 kg.
2496 - 2696 mm.
6
KR QUANTEC press
100 – 120 kg.
3455 – 3501 mm.
6
KR QUANTEC extra
90 – 210 kg.
2495 – 3095 mm.
6
KR QUANTEC prime
90 – 240 kg.
2496 – 3701 mm.
6
KR QUANTEC ultra
120 – 300 kg.
2467 – 3901 mm.
6
KR 360 FORTEC
240 – 360 kg.
2826 – 3326 mm.
6
KR 500 FORTEC
340 – 500 kg.
2485 – 3326 mm.
6
KR 600 FORTEC
420 – 600 kg.
2826 – 3326 mm.
6
KR 1000 titan
750 – 1300 kg.
3202 -3601 mm.
6