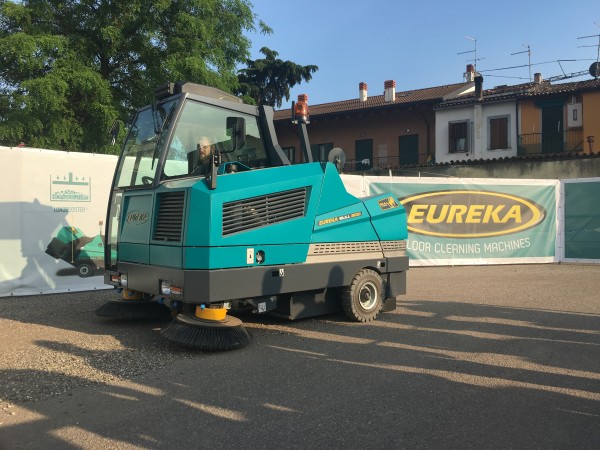 The EUREKA Bull 200 industrial sweeper is the first machine in the world to introduce BULLsystem® technology. Thanks to this patent, the Bull 200 combines the efficiency of direct forward throw sweeping with the maneuverability and loading capacity of a sweeper with a front driving position. A new solution, for the best results. This guarantees maximum productivity during waste collection and efficient management. The position of the operator in front of the machine, together with the automotive steering system of the front wheels, make this powerful machine particularly intuitive to drive. On the right side of the machine, which is key in cleaning curbs and cornering, there are not only one but two side brushes, which raises the standard of cleaning and prevents the ejection of pebbles and more. The Bull 200 is equipped with a Multipocket® antistatic washable filter with an automatic flush system.
The Loadbooster® waste container system (also known as a hopper), with a rear hydraulic lifter, is made entirely of steel and has a capacity of 500 liters. The system allows for efficient compaction of waste by using up all the space available in the container before having to stop work to empty it.
The Gradient Booster® hydraulic system reduces forward speed for maximum torque available and is useful for overcoming obstacles or steep inclines of up to 21%.
The Bull 200 Driveover® system is designed to allow the machine to pass smoothly across different height obstacles, which is an impossible task for other throwing machines.
Option: Side brushes can be equipped with a water spray system. Thanks to the 66 l stainless steel tank, water flow is guaranteed throughout the cleaning.
| | | |
| --- | --- | --- |
| Model | BULL 200 HDK | BULL 200 LPG |
| Power supply | Diesel | coming soon |
| Productivity | 29 820 m2/h | |
| Cleaning width | 210 cm | |
| Waste container | 500 l | |
| Max speed | 14,2 km/h | |
| Max gradient | 21% | |