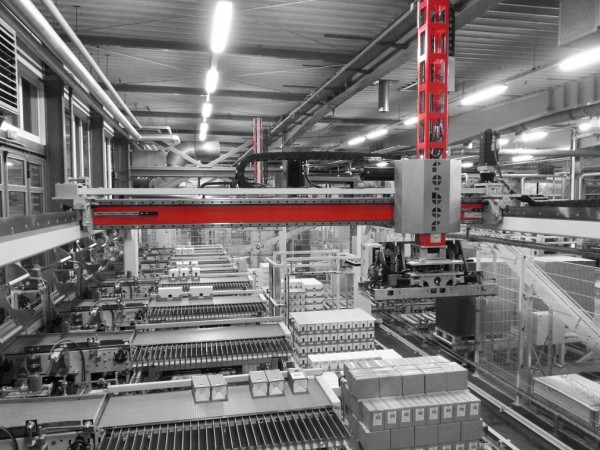 The robust design and carefully thought out modular system enables presented robots to be adapted to suit virtually any task. All moving parts on these robots have been designed to be as lightweight as possible to keep inertia forces to a minimum during positive and negative acceleration phases. The robots are powered by zero-maintenance AC servo motors that deliver great dynamism across the entire speed range, and pinpoint accuracy when positioning them is assured by high-resolution resolvers.
A distinction is made in terms of handling weights between the robot series from 150 kg to 1000 kg.. Within those series, another distinction is made by the way of working in 3D spaces - in two categories "area" and "linear" robots.
APPLICATIONS IN LOGISTICS AND WAREHOUSE PROCESSING
Why we palletize the products? Mainly for the purpose of transport volume optimizations - on a target pallet in units with transport heights of 1,200 mm or 2,400 mm. The pallets could feed a downstream wrapper with productivity up to 120 pallets/h, and to a pallet labeler before being forwarded on to dispatch. The robot control should be connected to the customer's master computer and receives all order-relevant information for the repacking process in this way.
Why we depalletize the products? Mainly for purpose of using single boxes/ item layers to infeed in automated mode the production areas with goods or raw materials. One of the possible examples is that major customers from industrial sector uses a changing selection of boxes, which must be automatically recognized and depalletized for storage purposes.
Main stream descriptions is following: The source pallets delivered via the pallet conveyor system goes to the "area" robot that depalletizes the source pallets.
Why we do commissioning of products? Main purpose is to execute orders that includes various products and after process of commissioning are converted into a mix pallets.
It is possible to supply 60 unmixed, loaded source pallets to the working area of the heavy-duty Area robot at the same time. The pallets are channeled on a driven pallet roller conveyors. With a range of approx. 400 articles, using different types of packaging (e.g. crates, cardboard packaging, open and film-wrapped trays, etc.). The robot performs the layer-based order picking of the target/customer pallets according to specifications from the customer's master computer. With a layer weight of up to 280kg, the system facilitates a repacking output of approx. 180 layers/h. At the same time, the robot collects the cleared empty pallets (could be different formats) and stacks these in a separate storage space at a speed of up to 60 units/h.
The picked and finished customer pallets leave the system via an automatic pallet wrapper with downstream pallet labeling system.
Goods could be stored directly on the floor and that space to be used for buffering. Area robots serve the total space directly from floor and could feed it using the method of tower storage of products. Easily afterward the total product tower could be dispatch with help of conveyors.
BENEFITS OF AREA AND LINEAR ROBOTS AT A GLANCE
Translator movements without centrifugal forces

Variable working space sizes

Clear layout concept for pallet and product conveyance technology

Great dynamism and positioning accuracy, even when carrying big loads (of up to 1000 kg)

Effective performance boost through the use of lifting tables

Expandability through sustained enlargement of the robot frame

Scalable performance enhancement through the use of one or more robot carriages in a single frame

Simple programming in Cartesian coordinates

Uncritical safety stipulations

Virtually zero-maintenance operation