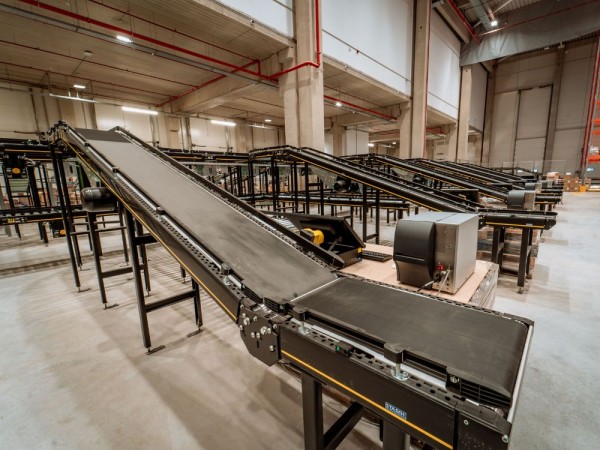 BELT CONVEYORS AND CONVEYOR SYSTEMS
Belt conveyors and conveyor systems are used for efficient intralogistics transport of lighter and medium-sized loads and SKUs- boxes, cartons, and even unpackaged, single, or bulk items. They ensure a constant goods flow in the distribution center, organizing the work of the operators and reducing the distances they need to cover;
Belt conveyor systems reach a productivity of up to 2.5m/s with horizontal, inclined, or turning belt conveyor modules, assembled in a cost-efficient conveying line;
DIFFERENT TYPES OF BELT CONVEYORS?
ROLLER BELT CONVEYORS
The surface under the belt is a "roller bed" composed of tightly positioned rollers, thus the risk of sagging is very reduced. They are perfect for automatic (not manual) picking of products from other intralogistics conveyor lines, as they are very stable;
FLAT BELT CONVEYORS
The belt may be made of different fabrics, polymers or natural rubber, depending on the products or storage units to be transported and the required friction;
MODULAR BELT CONVEYORS AND CONVEYOR SYSTEMS
This type of conveyor allows impressive flexibility during the engineering and implementation phases of the entire conveyor system. There are different belt conveyor modules:

Belt conveyors with downward or upward inclination;
Transfer modules and lifting doors, allowing the passage of operators, or material handling machines;
Checking stations with barcode readers;
Sorting modules for automated distribution;
BELT CONVEYORS WITH SEPARATORS
Special barriers along the lane divide it into equal segments. They prevent the SKUs from moving back or getting close to one another. The size and position of the separators may vary. There is no need for separators if friction is high enough;
BELT CONVEYORS WITH SPECIAL, MEDICAL, PHARMACEUTICAL, OR FOOD PROCESSING APPLICATIONS
They use to be equipped with thin and flat belts, as well as rollers, designed for special storage conditions and intralogistics transportation, with unusual temperature ranges, and relative humidity levels. They are perfect for higher hygiene requirements and meet very demanding international standards;

* Sometimes, even different magnetic belt conveyors and systems are implemented. They are perfect for transporting metal smaller parts and components;

PUTTING THE BELT CONVEYORS IN MOTION
Belt conveyors are driven by electrical motors or drum motors with the highest possible energy efficiency. Some automated belt conveyor modules have 24V drive options. Depending on the transport task, You can choose between 400V and 24V drives, aiming to reduce operational and energy costs;
WHAT ARE THE TECHNICAL PARAMETERS AND MAIN ADVANTAGES OF THE BELT CONVEYORS AND SYSTEMS?
Low sound emissions, below 64 dBA, to achieve quiet and efficient operations in the warehouse or the distribution center;
Higher-possible quality of the fabrics, and quick replacement of the belt - if necessary;
The recommended inclination of up to 16°, overcoming heights to reach additional levels of the sorting systems;
Up to 50 kg. per SKU and up to 550 kg. per conveyor module *depending on the system used;
Angular connecting belt conveyor modules under 30° or 45°, for separating or merging different belt conveyor lines;
Width of 90mm or 40 mm. for smaller and medium-sized SKUs;
Unlimited length of the belt conveyor and distance to be covered in the warehouse or the distribution center;