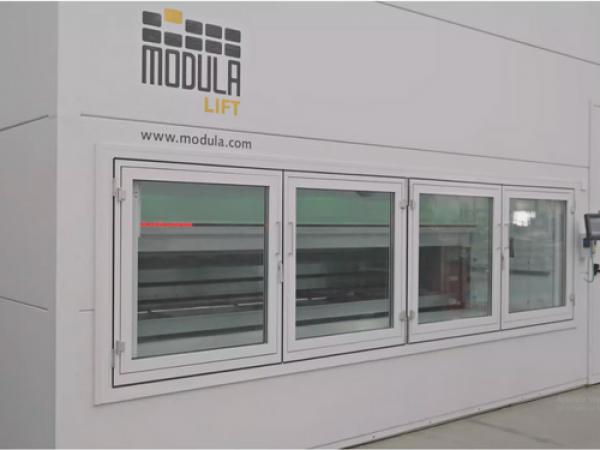 ALL THE ADVANTAGES OF THE VERTICAL LIFT MACHINES, WITH A CLIMATE CONTROL OPTION
This, 100% automated vertical warehouse for non-palletized units is designed for products, sensitive to changes in temperature and relative humidity levels. Vertical Lift Machines, actually are one of the shortest paths to effective and fast warehouse automation. This is the best prevention against product damages, losses, and deterioration. Faster picking processes ensure better end-customer service, in terms of fast and accurate delivery, starting from Your warehouse or distribution center.
COMPONENTS AND BENEFITS
Relative humidity control;
Temperature control;
VLM machines are self-supporting structures;
Energy control and economy;
The Climate Control modification brings all the advantages of vertical lift machines;
WHAT ARE THE ELEMENTS AND THE TECHNICAL CHARACTERISTICS OF THE CLIMATE-CONTROLLED VERTICAL LIFT MACHINES
Integrated humidity and temperature controlling system;
Dehumidifier, upon client´s request;
Heating resistor (optional);
Integrated air duct and air distribution systems;
Robust, insulating construction;
WHERE ARE VERTICAL LIFT MACHINES – CLIMATE CONTROL USED?
Refrigeration and air conditions control is often recommended over freezing – this means the longer shelf life of the products, by previously limiting the influence of the external environment;
Storage of certain products at temperatures from +2°C to +25°C (+/-2°C) and relative humidity levels >5% is particularly recommended in the food industry, pharmaceuticals, sensitive electronic components, some specific polypropylene products, natural materials, and many others;
Vertical Lift Machines make maximum use of the vertical space in the warehouse, organize huge quantities of products, allow monitoring of expiration dates, and quantities and work on the "goods to people" principle, which saves time, energy, and money;
TECHNICAL SPECIFICATIONS
HEIGHT
from 4 100 mm to 14 400 mm
SPEED
up to 120 cycles/hour
(depending on configuration)
ADDITIONAL HEIGHT
220 mm
INTERFACE
104" inch touch screen technology
TRAY WIDTH
from 1,500 to 4,100 mm
TEMPERATURE
2-25°C (+/-2°C)
TRAY DEPTHS
654 mm - 857 mm - 1.257 mm
RELATIVE HUMIDITY
> 5 (+-2%)
TOTAL CAPACITY OF EACH MACHINE
from 35 000 to 90 000 kg according to model and configuration
Automatic weight control on re-entry of each tray;
Dynamic control of load heights;
Galvanized steel supporting structure;
Management of trays with differentiated capacity;
MAXIMUM HEIGHT OF EACH ITEM/UNIT
695 mm