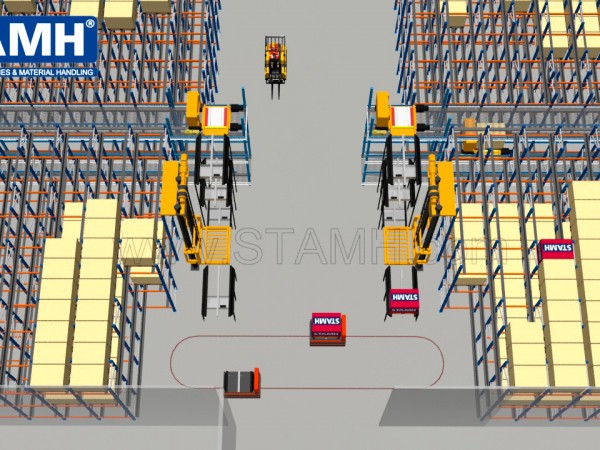 Multilevel Shuttle Storage System sets new standards for throughput, flexibility, and efficiency. It consists of three modules, coordinated by a software module:
Shuttle car;
High-performance vertical lifts;
Special carrier, transporting the shuttle car to the exact location on a certain level.
Similar to the Small Parts Shuttle Technology, the Multilevel Shuttle System enables multi-level deep storage and highly dynamic commissioning of various types of pallets. All this, combined with high storage density.
With its modular structure, the Multilevel Shuttle System is totally adaptable to different customer needs. The fields of application for this Pallets Shuttle System are suitable for:
cold storage;
buffer storage;
dispatching warehouses;
sequence storage, commissioning warehouses or supply, and distribution centers;
REQUEST AN OFFER HERE or keep reading:
Multishuttle Storage Systems may be the perfect solution to upgrade existing warehouses.
All modules of the system can be constructed for deep-freeze conditions.
They are suitable for a wide variety of unit loads.
The energy balance and operating costs are very important, especially in cold storage conditions. Due to the innovative Energy Storage Systems, charging solutions has smart energy management. Multishuttle Storage Systems has low energy consumption, increasing speed and reducing costs at the same time.
The integral control of the system turns on/off different modules to achieve faster and more precise operations in a reduced period of time. For example, it is possible to reduce the throughput time of a warehouse in case it is more important to improve the utilization of the space at any time.
Multishuttle Storage Systems' essential components are:
Instead of conventional batteries, the Shuttle Car is powered by power caps. Recharging these power caps can take about 8 seconds, while the Shuttle Car is being transported by the Carrier. So, constant 24 hours, non-stop operation is possible.
All Shuttle Cars are moved with powerful and compact 400 V three-phase motors. With its powerful motors and power caps, the Shuttle Cars reaches a loading capacity of up to 1500 kg. and can be quickly transferred and transported.
These conveyors transport unit loads to higher or lower levels. With the modular system, STAMH can supply different configurations to meet your needs. The stable columns can be fully enclosed if required. Either one or two load-handling devices can be used simultaneously to transfer goods.
The Carrier works as a transport unit for the Shuttle Car with or without load and can be repositioned as required with the vertical conveyor. Thanks to the controls concept several Shuttle Platforms can be assigned to one Carrier at the same time, ensuring scalability for every Multishuttle Storage System, even after the project is completed.

8 running wheels make the Carrier stable and safe. The carrier easily overcomes aisle lengths of up to 120 m. Its lightweight design reduces energy consumption. All components are designed to work in cold warehouses, also.
Energy Efficiency:
A new generation of high-performance power caps;
Inductive energy transmission reduces the installation requirements and the cost of the investment.
Communication:
There is a permanent point-to-point radio link between the Carrier and the Shuttle Car, to ensure maximum functional reliability. All the movements are monitored by the Integral Control System and compared among each other.
REQUEST AN OFFER HERE or keep reading:
Benefits at a glance:
Scalable, for further increases in performance and speed;
Optimum use of space with any building layout;
Suitable for different types of loads and items;
Low energy consumption;
High throughput rates up to 250 pallets per hour;
High availability;
Multishuttle Storage System can be retrofitted in existing warehouses;
Compact design for high storage density;
Less installation work;
Quickly executing and installing of the systems if needed;
Cold store compatibility - down to -30 °C
Rated load: up to 1.500 kg.
Speed: up to 300 m/min.
Acceleration: up to 1.2 m./s2
Power supply: inductive/conductor rail
Integral control
Repositioned by vertical conveyor