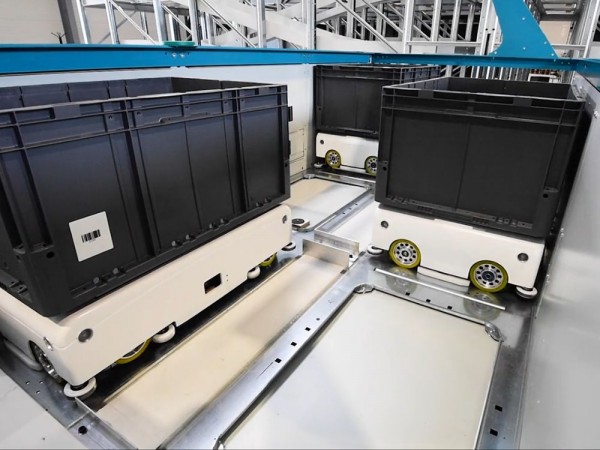 HOW DOES THE NEW E.SCALA AUTOMATED RACKING SYSTEM WORK?

Completely autonomous e.scala robots move in three different directions in the racking system, transporting cassettes and trays of products without human intervention.
Like a car in a parking, the robotic platforms transport the picking cartridges between the different levels in the racking system, using ramps.
The intelligent software of this Fully Automated Racking System, combined with innovative engineering, organizes the movement of E.SCALA robotic platforms in the most efficient way, to multiple points, simultaneously.

SCALABILITY, IN TERMS OF CAPACITY AND PERFORMANCE
It is not necessary to integrate a large-scale system at the very beginning of the process of warehouse automation. You can start with a medium-sized system and upgrade after seeing the results for yourself.
MAIN CHARACTERISTICS OF THE AUTOMATED RACKING SYSTEM FOR NON-PALLETIZED GOODS
Strength, reliability, and durability;
Large range of applications. In practice, the system can handle a large variety of non-palletized products, organized in cassettes and picking trays;
STAMH engineering teams can configure the required storage density of the system;
Scalability – you can start the automation process in the warehouse with only 500 pcs. and you can always upgrade it, depending on your needs;
The integration of additional robotic e.scala shuttles leads to increased productivity and an increased number of orders your storage and distribution facility can fulfill, simultaneously;
Speed ​​and accessibility - this Automated Fulfillment System provides multiple possible routes to access any location in the warehouse. So now, there is no longer a need to store the same item in different locations in the distribution center;
WHAT ARE THE MAIN ADVANTAGES OF THE E.SCALA AUTOMATED WAREHOUSE SYSTEMS?
100% charging of the system on the go - not with the conventional industrial batteries, but with special, long-lasting industrial capacitors;
The system performs perfectly in special storage conditions - cold warehouses, cold rooms, and distribution centers with controlled temperature or higher relative humidity;
This automated warehouse system can replace conveyors, cranes, and expensive lifting equipment, simultaneously;
E.scala can handle both standard 600x400 picking cassettes and 650x450, larger picking trays;
Reduced noise pollution – the system reduces noise in the distribution center. It is extremely quiet, down to less than 20 dB;
Load capacity above the average for international market requirements - up to 40 kg. of each tray and of each department warehouse operation;