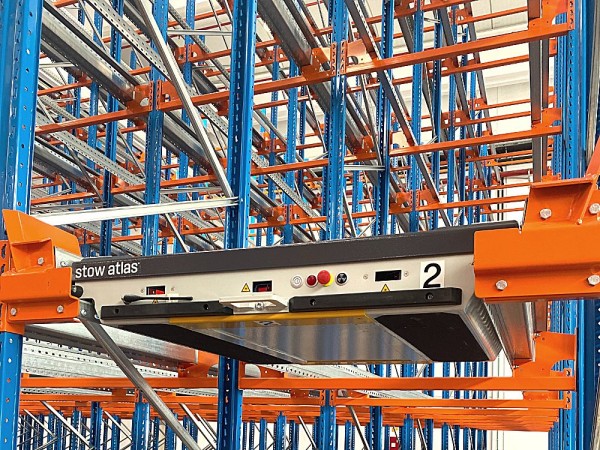 APPLICATION OF THE RADIO SHUTTLE PALLET RACKING SYSTEM
Maximum Efficiency. Rapid storage and retrieval of pallets weighing from 25 to 1,500 kg. Accelerated truck loading and unloading, and a perfect buffering solution.
The Radio Shuttle Pallet Racking System is a high-quality, semi-automated storage solution for high-volume palletized loads and products. It's frequently used in warehouses, and distribution hubs for food and beverage products, or storage facilities with special storage conditions. The Radio Shuttle System is particularly effective when your logistics center needs to rapidly and efficiently supply a wide range of different businesses;
Radio Shuttle Racking System optimizes storage capacity as there is no need for material handling equipment to enter the storage system, so there is no need for working aisles. These racks can store a large variety of pallets in depth, based on specific needs or seasonal demand.
REMOTE-CONTROLLED, ROBOTIC SHUTTLE PLATFORM - PALLET CARRIERS
Fast and precise storage and retrieval with reduced costs. The Radio Shuttle Pallet Racking System utilizes radio-controlled robotic shuttle carriers that lift, transport, and position pallets within the system automatically. The specially designed corridors and sensor systems enable smooth movement of the platform. The system can operate with various numbers of automated pallet carriers, with each additional carrier increasing productivity. Implementation can be done gradually.
Material handling equipment doesn't access the storage system - they directly retrieve or deposit pallets from one side. This reduces their travel distance, depreciation, maintenance needs, and the need for highly specialized warehouse operators. The construction of the pallet racking system is perfectly protected;
POWERING THE RADIO SHUTTLE SYSTEM
Each Radio Shuttle platform operates with durable industrial lithium batteries that provide longer autonomy, sufficient for more than 16 hours of highly effective operation. At the same time, the charging process is extremely accelerated and can be completed within 3 hours;
TECHNICAL CHARACTERISTICS OF THE RADIO SHUTTLE PALLET RACKING SYSTEM
New levels of speed, efficiency, and profitability in pallet storage and retrieval.
The automated Radio Shuttle platform can reach from 0.8 m/s when loaded to 1 m/s when empty. Suitable for various types of pallets - euro pallets and industrial pallets. The platform can also transport large bags, sacks, or plastic pallets. This storage system operates in temperatures as low as -20°C ❄️. The depth of the storage corridor for each pallet is practically unlimited.
The Radio Shuttle Pallet Racking System can be adapted to different volumetric warehouse spaces;
Exceptionally durable, industrial batteries are included in the price;
The Radio Shuttle system allows for both LIFO (Last-In-First-Out) and FIFO (First-In-First-Out) storage methods.
Scalability - the system can be expanded in terms of capacity, and additional robotic shuttle platforms can be added to increase productivity.
Integration of WMS with STAMH Solutions;
Enhanced safety - significantly reduced risk of incidents due to minimal material handling traffic in the warehouse. Higher warehouse capacity and pallet storage density. Increased productivity;
SOME RADIO SHUTTLE PALLETS RACKING PROJECTS DESIGNED AND BUILT BY STAMH GROUP
We can't showcase all our successfully functioning Radio Shuttle pallet systems, but here you can learn more about some of our projects:
Feel free to contact us at office@stamh.com for a consultation with our professional engineering team and to receive a comprehensive project solution.