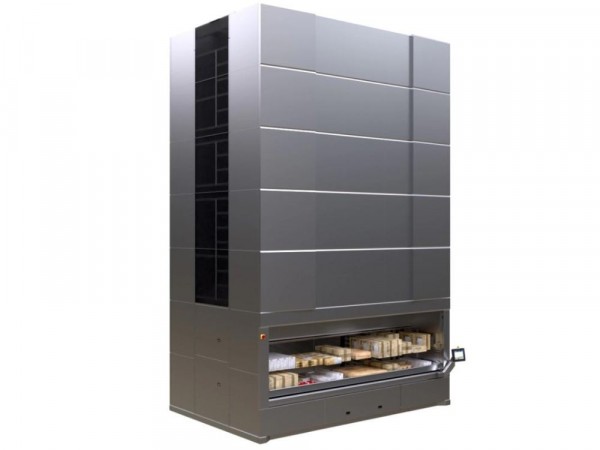 WHERE AND WHEN CAN YOU IMPLEMENT AN AUTOMATED VERTICAL WAREHOUSE WITH THE SPECIAL CLEAN ROOM TECHNOLOGY?
The Clean Room modification of the Vertical Lift Machines protects different products from dirt, dust, small particles in the air, and unnecessary pollution. It's the best solution for companies in the field of sensitive electrical and electronic components, equipment for hospitals and other health institutions, the chemical industry, or even pharmaceutical companies. It´s suitable to meet the highest quality standards and requirements when they are high and demanding.
This type of Vertical Lift Machine is designed to minimize the access and the generation of specific particles that could damage or reduce the quality of the stored goods.
MAIN ADVANTAGES OF THE VLM WITH THE CLEAN ROOM TECHNOLOGIES
This warehouse automation solution is designed to meet your storage needs, always when you need to process different components, sensitive to dust (chips, semiconductors), meeting ISO 14644 standards, classes 7 and 8. The VLM machines with the Clean Room technology:
Control the concentration of different particles in the air;
Stop the generation of dust when functioning, preventing the contamination of the stored items;
Prevent the deposition and attachment of particles on the horizontal and vertical surfaces;
WHAT ARE THE MAIN COMPONENTS AND THE TECHNICAL SPECIFICATIONS OF THE VERTICAL LIFT MACHINE?
This Clean Room Technology of the Vertical Lift Machines has several main components:
Strong and stable external isolating construction, combined with reliable internal structure;
One or more picking bays, providing ergonomic position for the operator when placing or retrieving an item;
A central elevating system, moving and positioning trays within the Vertical Lift Machine;

Each Vertical Lift module with the Clean Room modification can store up to 90,000 kg. Don't hesitate to contact a STAMH Group expert – our specialized team will recommend, engineer, supply, and install the most suitable model - ME & ME-D, MA & MA-D, MC & MC -D, MX & MX-D or ML & ML-D, depending on your specific needs and the dimensions of your warehouse, distribution or fulfillment center.