The system of conveyors in the sorting or distribution centers is more complicated than the one in the storage systems. It is necessary to provide very high-speed intralogistics operations. Conveyor systems in distribution or sorting centers provide more services than other systems:

BASIC FUNCTIONS
For extremely short periods of time, distribution centers must perform certain intralogistics operations.
Sorting centers combine activities such as transport, cross-docking, orders fulfillment and picking, labeling and packaging, as well as other operations necessary to complete the order cycle. They perform also
pre-preparation of goods;
processing;
delivery;
receipt;
shipment;
processing of returned goods;
productivity measurement.
REQUEST AN OFFER HERE or read more:
FAST AND ACCURATE STORING, PICKING AND EXPEDITION IS ESSENTIAL

Sorting and distribution centers are focused on customer service and strive to serve everyone as efficiently as possible. Conveyor systems in these centers are the key element for the rapid movement of goods. In addition, distribution centers often require more sophisticated technologies to monitor and manage all processes.
Highly efficient systems are needed for fast sorting, distribution, picking, and shipping. This is essential to meet the growing demand.
Crossbelt Sorting Conveyors Systems are particularly efficient and very stable solutions, able to ensure constant flow.
The core of the system is a highly efficient mechanism. Mechanically designed with extremely high-quality parts, The Crossbelt Sorting Technology guarantees reliable fast movement of the left or right belt and precise rerouting of goods to the specified points of destination.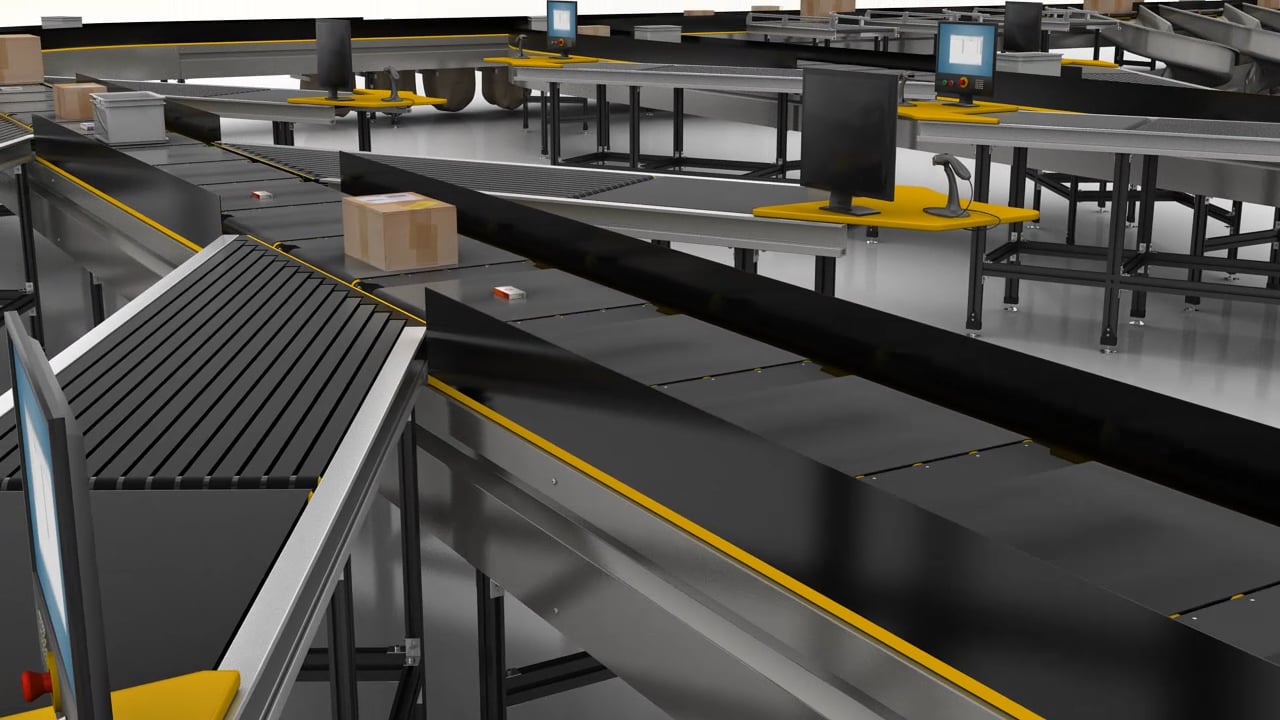 REQUEST AN OFFER HERE or read more:
MAIN ADVANTAGES OF THE SORTING CENTER SYSTEM
2000 to more than 20,000 sorting operations per hour (depending on the size of the item and the configuration of the Conveyor Sorting System);

Able to sort single loads up to 35 kg. and dimensions up to 1200 x 800 mm.

The Sorting System is suitable for particularly small items and very sensitive goods;

For products of different shapes, sizes, and material (mixed);

Reduced maintenance costs;

Energy-efficient and quiet operation: less than 68 Dba .;

Vertical and horizontal configurations.
REQUEST AN OFFER HERE or read more:
OTHER ADVANTAGES OF THE CONVEYOR SYSTEM FOR SORTING AND DISTRIBUTION CENTERS:
Better control and inventory of all goods in the distribution center;
Accessibility - easier and faster access to each product;
Intralogistics transportation - the central location of the distribution center, will make the shipment of products much more efficient, fast, and cost-effective for your business;
Reporting - a clear idea of ​​stocks, orders, and more.
REQUEST AN OFFER HERE or see photos with this system here.