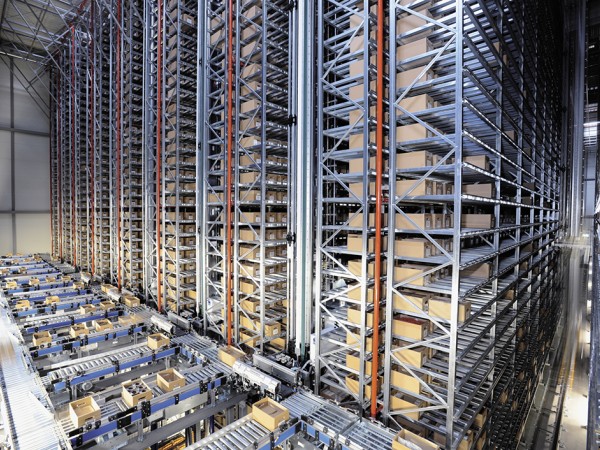 This Automated Storage System for boxes and trays is part of a fully automated warehouse, suitable for faster storing and retrieving different kinds of small handling units as totes, cartons, boxes, etc. An additional value of this Automated Storage System is that you can execute fast picking directly from it, using cranes as supporting hands, and delivering the items in front of the person.
The Automated Storage System for Boxes follows the "goods to person" principle with an impressive speed of about 120 double cycles per hour. This system converts the picking process into a play using the modular console.
The Automated Storage System for boxes and trays consists of Racks, Cranes, Conveying System and Management Software
Racks are elevated in the warehouse. Cranes are moving in very narrow aisles, leaving enough space for other activities and storage;
The Miniload Crane (smaller unit of the Storage Retrieval Machine or SRM) is the perfect solution for a fully Automated Miniload Intralogistics. This system enables the storage and picking of containers, cartons, and trays.
This Automated Storage System for boxes and trays:
Makes optimum use of the available storage or production space, even in small warehouses.
Guarantees safe storage of sensitive or valuable goods;
Miniload Storage System can be used for refrigerated production spaces or warehouses;
There is a diverse range of load handling devices, ensuring there is almost no limit on the shapes and surfaces of the stored or buffered goods. Together with the single or double storage handling devices of the crane, the load handling devices are optimally configured to match your requirements. The modular features provide you with a customized configuration together with an optimum price-performance ratio, providing short-term ROI.
The Miniload Crane is designed for quality and long-life usage. Innovation and new energy-efficient techniques are always a reason to invest in such a system.
It is important to focus the attention on the Picking Strategy that you will implement to receive more efficient storage and picking. That evaluation is always our first goal during the first meetings with our customers and partners. That's how we will be able to define a solution, covering real needs and saving time in all production and intralogistics operations.

REQUEST AN OFFER HERE or keep reading:
Benefits at a glance:
Solutions, designed individually for your needs, but using the modularity of the components;
Diverse storage options and the possibility to store different items and shapes of the SKU;
Adaptability - different system sizes and heights;
Resilient to extremely demanding conditions such as deep-freeze temperatures;
Systems can be expanded and modified, even after many years;
A comprehensive range of accessories;
Flexibility and sustainability;
Optimum storage density;
Rapid access to each stored pallet;
Maintenance-friendly machine elements, due to the proven high-quality of all components;
Problem-free transport and short installation times resulting from modular design;
Connection to higher-level ERP systems or integration of the solutions via MFS and WMS software;
Complete solutions from a single partner;
Reliable planning and costs management;
Professional project management and installation, supervised by experienced project managers, engineering crew, and installation professionals;
After-sales service from STAMH (installation, inspection, and services, rack inspections, spare parts, or modifications)
STAMH provides all needed software and hardware solutions to ensure the functioning of the entire system;
Do not hesitate to contact us for more information and consultancy!