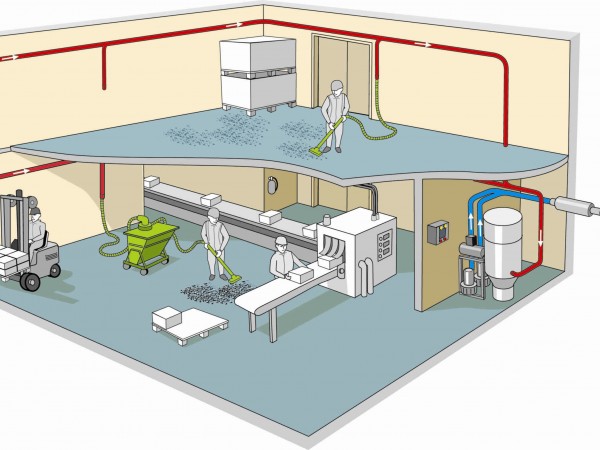 STAMH Tech in cooperation with its partners offers design and installation of centralized vacuum system (CVS) for any production site and application. We offer a wide range of components for the realization of centralized vacuum systems, such as suction units, filter systems, dust collectors, pre-separators, components for the piping, control devices. All products can be made of painted steel, stainless steel and in ATEX version according to the customer's requirements and the application field. We also offer a complete set of components for stainless steel pipe fitting (INOX) or galvanized - corners, pipes, joints and connections, branches, vacuum contacts, valves and more.
Three-phase vacuum units with electronic control of the system, capable of adjusting the vacuum power according to the number of users. Systems can be built with one or more vacuum motors
Automatic start/stop of the system
Silos with diameters from 460 to 1200mm and volume from 100 to over 2000l
Bag or cartridge filter systems of different filtration classes (L / M / H)
Filter cleaning systems, either by mechanical shaker filter or automatically with compressed air
Electronic control of compressed air consumption
Unloading systems with removable container, gravity valve, rotary valve or double valve
For inquiries and consultation do not hesitate to contact us.