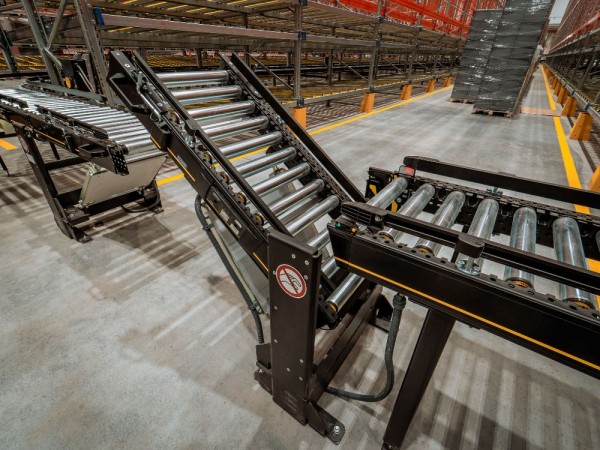 ROLLER CONVEYORS AND CONVEYOR MODULES
Roller conveyors are one of the most demanded ways to achieve constant, fast, and organized SKU flow in the warehouse, distribution center, or logistics hub. They connect different areas in the warehouse, organizing its work and processes. Roller conveyors are designed to transport SKUs of any shape, size, and weight. These conveyors can quickly and efficiently transport:
Boxes;
Cartons
Picking cassettes and picking trays;
Pallets,
Plastic or paper bags;
Sacks;
Roller conveyor systems connect the receiving, palletizing, depalletizing, packing, or shipping areas in the distribution center. The distances that operators and lifting equipment have covered are significantly reduced;
ROLLER CONVEYOR SYSTEMS
STAMH Group engineer and install complex automated roller conveyor systems – a combination of motorized and non-motorized conveyor systems. In the automated distribution centers, roller conveyors may have complex configuration modules – curved modules, junctions, inclined modules, transfers, turning tables, and even combinations between belt and roller conveyors;
HOW TO PUT ROLLER CONVEYORS IN MOTION?
Roller conveyor systems can be driven by economical electric motors, gravity, or by being pushed by a warehouse operator. Each individual roller is connected to an electric motor by a chain, shaft, or belt. All transported SKUs move at a controlled speed and momentum can be reduced if needed. The direction of movement of roller conveyors can be changed by changing the direction of movement of electric motors;
Thanks to the modular nature of the systems, only modules that transport products at this very moment are moving, while the other modules don't consume electricity;
Zero Pressure Accumulation technologies allow roller conveyor systems to accumulate products, create a buffer, establish a queue, and avoid irregularities in the movement of the SKUs between different operations in the warehouse or the distribution center;

MAIN COMPONENTS OF THE ROLLER CONVEYOR SYSTEMS
Roller conveyors are part of a complete automatic warehouse system and equipped with power modules, drivers, PLC controllers for autonomous technologies. Automated systems need customized PLC programming and MFL engineering;

TYPES OF ROLLERS OF THE ROLLER CONVEYOR SYSTEMS
Easily driven rollers for gravity and non-motorized conveyor modules;
Special rollers for wet or hygienic areas in the food industry;
Fixed drive rollers for light or medium light items such as boxes, cassettes, or rubber materials, double friction conveyor rollers;
Omni wheels and rollers capable of rotating in all directions, for distribution and sorting modules;
"Roller beds" and polymer, plastic, or galvanized tracks used in Carton Flow Storage Systems and Live Storage Pallet Racking Systems;
Special steel transportation rollers designed for extreme subzero temperatures and deep frozen warehouses;
Universal conveyor rollers;
Tapered, cone-shaped conveyor rollers designed for curved modules;
Rollers with magnetic speed controllers designed for gravity conveyor systems, sorting machines, or spiral conveyor modules;