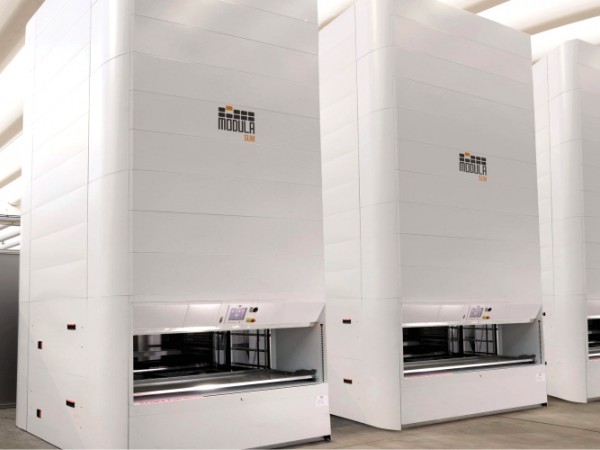 The Compact VLM - Vertical Automated Storage Machine is a high-speed storage and retrieval system, perfect for a wide range of items and SKUs - from bulk materials to containers and trays (boxes, packages, cartons, sacks), a large number of small items, spare parts, coils or even flasks.
Compact Vertical Lift Module is different, because you get all the benefits of the vertical lift system on just 3 m² of your warehouse, storing a total weight of up to 25,000 kg. This is an extremely compact automated solution, optimizing your warehouse capacity, allowing you to enlarge your portfolio and storage usable space.
MAIN ADVANTAGES OF THE COMPACT VERTICAL LIFT MODULE
Space optimization: high storage density and small footprint. The area you need for the compact vertical lift module is only 3 m²;

Storage and retrieval speed: automation means picking speed incrementation. Your business will be ready to meet peak moments and increased demand for fast delivery;

Ergonomics: all items are easily and quickly accessible for the operators in the warehouse. The picking bay is positioned on an accurate level above the floor level;

Inventory control: always available and precise stock information;

Security: your expensive goods are stored in a safe place with personal password access;

Accuracy: less picking errors means more satisfied customers.
WHY SHOULD YOU CHOOSE THE AUTOMATED COMPACT VERTICAL LIFT MACHINE?
Exceptional space optimization: store and pick quickly among 25,000 kg., using less than 3 m² floor area and up to 7 m height;

Maintenance: the system works quietly, no need for additional lubrication. The rollers self-adjustment system makes the Automated Compact Vertical Lift Machine really easy to install and adjust. Of course, you will receive full support from STAMH experienced engineering and technical teams;

Power supply: you can choose between the three-phase (400V) or monophase (230V) power supply;

Energy efficiency: low energy consumption and high productivity - less than 1.2 kW/h;

New Lift Technology: allows smooth trays movement, even if they are not well balanced;

Dynamic height between trays: you can store and retrieve different-sized products. Thanks to this feature, the Compact Vertical Lift Module automatically calculates where to store each tray in order to optimize the space;
TECHNICAL SPECIFICATIONS
Height of the module:
from 2 400 mm. to 7 000 mm.
Unit height increment:
100 mm.
Width of each tray:
1 300 mm. / 1 900 mm. / 2 500 mm.
Depth of each tray:
425 mm.
Netload capacity of each tray:
350 kg.
Maximum total load capacity:
25 000 kg.
Maximum storage height:
650 mm.
Dive height/delivery trays:
835 mm.
Productivity:
Up to 190 trays/hour
HMI (interface for the operators)
10,4" touchscreen industrial console
Number of picking bays per module
1
Energy efficiency
1,2 Kw/h for a 7 000 mm. module
Power supply
230V monophase or 400V three-phase