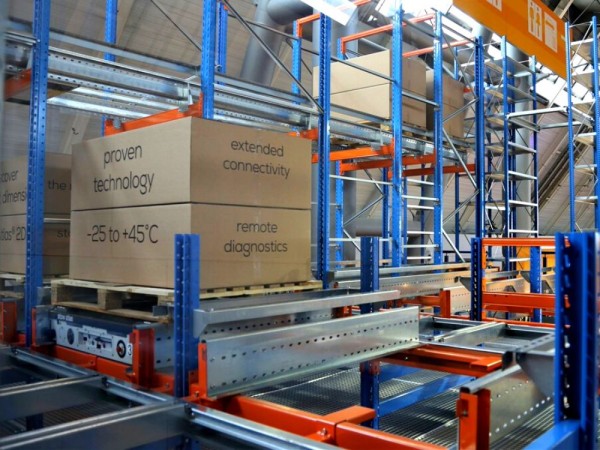 100 % WAREHOUSE AUTOMATION, COMBINED WITH MAXIMUM SPACE UTILIZATION, SPEED, ACCURACY, AND HIGHER STORAGE DENSITY
This Automated Storage System for pallets is perfect for palletized goods weighing up to 1,500 kg. With it, heavy pallets are transported, stored, and retrieved by a special 2D shuttle platform, guided by the integrated STC - traffic management software.
As soon as the WMS software receives an order, the software of the 2D Automated Storage System selects the most suitable 2D shuttle platform to perform the incoming tasks. The STC software calculates the optimal shuttle path by taking into consideration multiple variables like the occupancy rate of the main working lanes, the current state of operations of each automated 2D shuttle platform, and other data, to perform the task as fast as possible.
Operational costs for every single warehouse operation are drastically reduced, immediately after the installation of the 2D Automated Racking System for pallets. No human intervention or expensive material handling equipment is required. The 2D Shuttle Automated Racking System reduces the execution time of each order.
RACKS AND MAIN RACKING STRUCTURE IN THE AUTOMATED 2D SHUTTLE SYSTEM
The completely optimized racking structure, made of robust and reliable galvanized steel is based on the Racking Systems for pallets, STAMH Group designs, delivers, and implements. It meets all European standards, requirements, and EN/FEM regulations.
The racking structure can be easily adapted to different warehouse parameters and volumes, including lower industrial buildings. It has a compact design, and the main aisles are executed as walkways.
It is engineered to take maximum advantage of the available floor space and building volumes, ensuring more pallet places per every square meter.
100% AUTOMATED WAREHOUSE OPERATIONS
The self-propelled 2D robotic pallet shuttle moves smoothly on rails, at a speed of 2 meters per second. The rails are designed and built as part of the racking structure.
The automated 2D shuttle changes its direction at the so-called crossings, between the main working lanes and the secondary storage aisles.
KEY FEATURES OF THE 2D AUTOMATED RACKING SYSTEM FOR PALLETS
Scalability: with step-by-step integration of new 2D shuttle platforms, you can increase productivity in a progressive way;

Flexibility: the 2D Automated Shuttle System can be integrated into any warehouse or distribution center, regardless of its volume and sizes

100% volume utilization: maximum storage density, as no wide working aisles for lifting equipment or working aisles for warehouse operators are required

24/7, automated operations: the charging stations for the industrial batteries of the 2D shuttles are integrated into the racking structure.

The shuttles are programmed for self-automated charging when shuttles are not performing a specific task in the distribution center. This provides an opportunity for uninterrupted warehouse operations and 100% workload. The STC software optimizes constantly every single warehouse operation.

Lightness and speed: the new shuttles of the 2D automated storage system are very light and strong. This provides maximum system energy efficiency and additional velocity.