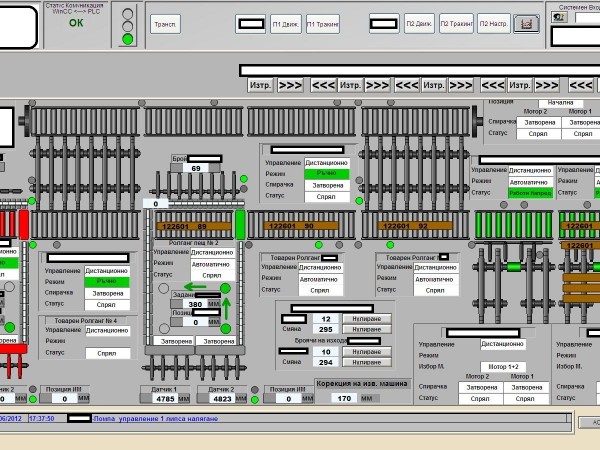 SCADA (Supervisory Control and Data Acquisition) is professional software used for remote control of complex industrial and warehouse systems. One of the main applications of the management and control software - SCADA is the supervision and analysis of all processes in the warehouse or production base. SCADA is suited for smaller and larger systems.
Thanks to SCADA, all devices, part of the Automated Storage System, such as sensors, motors and other devices controlled locally by the PLC are switched on and off at the right/exact moment. This way, they always implement the most profitable instralogistics strategy.
Nowadays, SCADA software can be locally or remotly managed, thanks to the ability to be installed on various terminals, desktops, mobile phones or tablets.
MONITORING, DATA ANALYSIS AND OPTIMIZATION OF THE PROCESSES IN A WAREHOUSE
The amount of data, analyzed in modern warehouse automated processes is increasing. SCADA solutions and SQL databases allow faster analysis.
STAMH Solutions' SCADA software provide real-time monitoring and data processing. It makes possible to take the right decisions (sometimes completely automatic, by the system itself) to optimize and speed up the processes in the warehouse.
Modern SCADA solutions, of course, must be adapted to the needs of a particular warehouse or production unit. They have a graphical interface, tools for structuring and storing relevant information and analyzing data - including identifying trends to increase the speed, to optimize the processes or to achieve greater productivity.
STRUCTURE AND DIFFERENT LEVELS IN SCADA IMPLEMENTATION
PLC devices, as well as RTU - Remote Terminal Units are microcomputers that communicate with multiple other divices. They transfer important information to desktop devices or mobile phones with SCADA software. On the other hand, PLCs or RTUs are fed with information from sensors or manually entered imputs.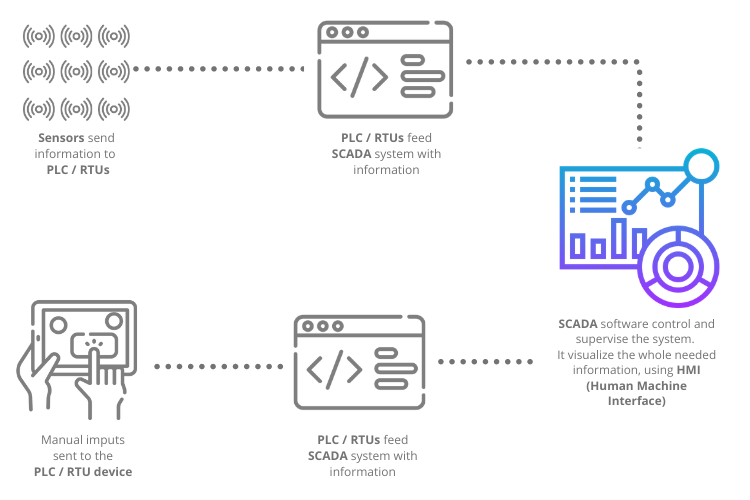 In order to better understand the functioning of SCADA software, it is good to define the four main levels software solutions work in production and logistics areas:
- Programmable logistics controllers PLC
- Remote terminal units - RTU
- Communication network
- SCADA Software
MAIN ADVANTAGES OF THE MODERN SCADA SOLUTIONS OFFERED BY STAMH:
Complete control of all warehousing and production processes;
With cloud technologies, possible hardware failures do not lead to data lose;
Modern SCADA software can be installed on mobile devices;
Easy-to-understand interface, requiring minimal staff training time;
MORE SCADA ADVANTAGES:
SCADA solutions allows real time work from all around the world;
Timely data analysis, which allows optimization of processes in the warehouse;
Fast integration with MES (Manufacturing Execution Systems) and ERP (Enterprise Resource Planning) softwares;