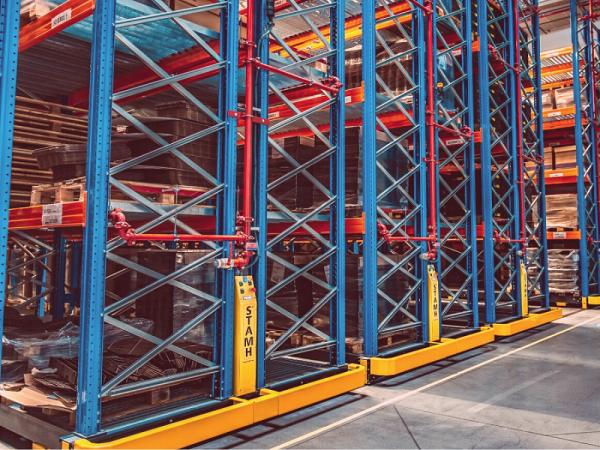 DESIGN AND PROPOSE OF THE MOBILE RACKING SYSTEM
The Mobile Racking System is one of the best racking solutions to increase warehouse capacity, keeping direct access to each pallet. Pallet racks are installed on mobile bases. Racks slide smoothly on rails, fixed to the floor, opening an access aisle only where needed. The bases are equipped with motors, electronic control, and storage security systems, ensuring safe and efficient operations. Тhe rest of the mobile racks stand close to each other, ensuring maximum storage density.
MAIN ADVANTAGES OF THE MOBILE RACKING SYSTEM
The Mobile Racking Storage System opens an access corridor between the racks only when/where needed with a push of a button. It can be managed with remote control from the Material Handling Machine operator, for example. The rest of the racks remain compact and close to each other. This is how you save space and increase the storage capacity of the warehouse, within the same volume.
FREEDOM OF OPERATIONS OF THE MATERIAL HANDLING MACHINES
The rails for the mobile bases of the Mobile Racking Storage System are dug into the floor of the warehouse. This way, they don't interfere with the free maneuvers of the Trucks and material handling machines used in the warehouse. The working corridor width can be tailored to your exact requirements.
REQUEST AND OFFER HERE or keep reading:
WAREHOUSE MANAGEMENT SOFTWARE AND ADDITIONAL SECURITY FEATURES
Thanks to the software modules, developed by STAMH Solutions, the Mobile Racking Storage System for pallets is able to open additional ventilation corridors between racks at night, automatically. The width of the working corridor during the day can be equally distributed between all racks at night when the Racking System is not in use. They can be with specific dimensions, depending on the client's needs and warehouse characteristics.
STAMH's engineering team is very experienced in the installation of very secure Mobile Racking Systems, with emergency stop buttons, movement sensors, front photocell safety barriers, side protection, alarms, and light signals, ensuring trouble-free operation for operators and machines in the warehouse. Light and sound signals are activated when mobile bases are sliding;

WHAT ARE THE BENEFITS FOR YOUR BUSINESS AFTER THE INSTALLATION?
Increase the capacity of your storage space up to 100%;
Save up to 40 % of your storage area;
1. Conventional Racking System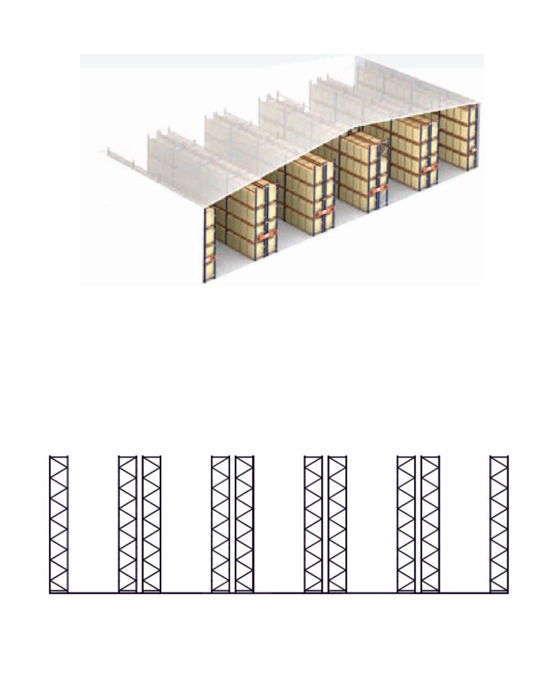 2. Mobile Racking System
Save up to 40% of the storage area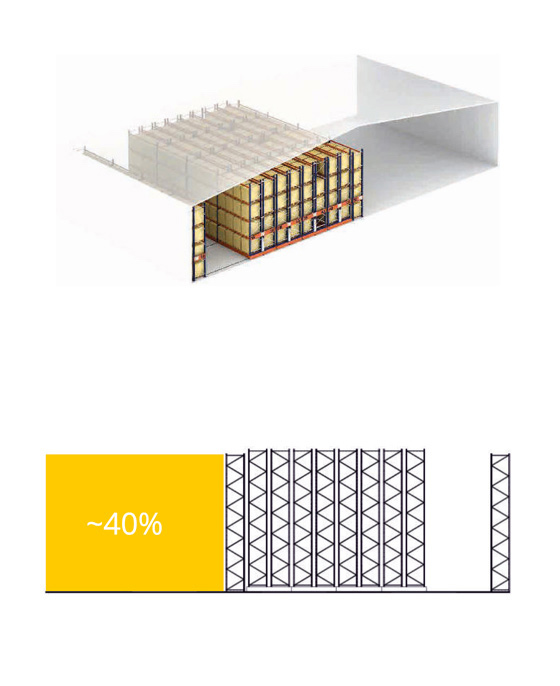 3. Mobile Racking System
Increase up to 100% the storage capacity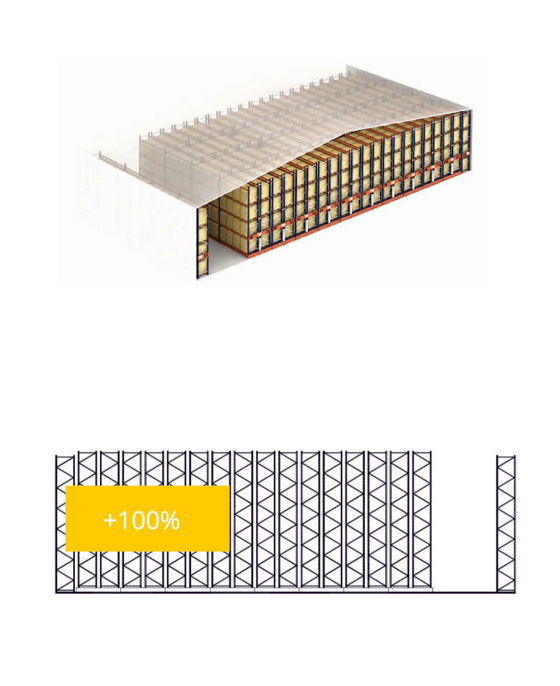 REQUEST AND OFFER HERE or keep reading:
MORE ADVANTAGES OF THE MOBILE RACKING SYSTEM:
Design, engineering, installation, and service by one of the most experienced Mobile Racking Systems suppliers in EU - STAMH;
Increase the warehouse capacity and profitability immediately after the installation;
Innovative and modern software module to control the system, provided by STAMH Solutions;
Direct increase of the storage space, without investing in new storage buildings and areas;
Quick access to each pallet;
Systems and machines working even in adverse storage conditions;
Depending on your storage height, you may almost double the pallets placed in your warehouse. Here is a real example from our experience with a 1400 sq. m. warehouse: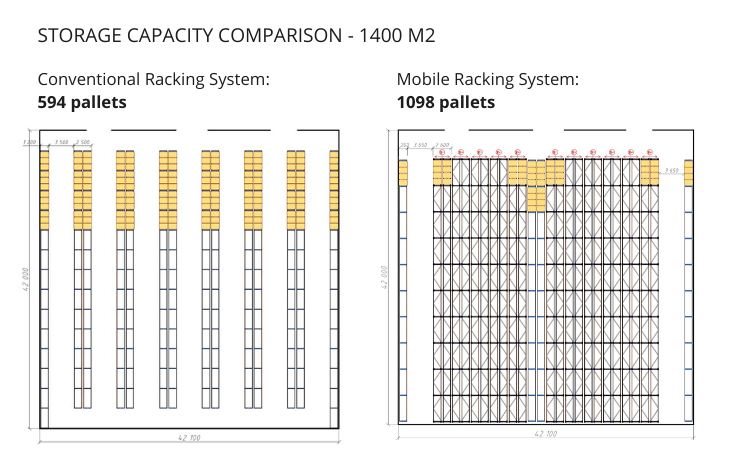 WHY TO CHOSE STAMH?
For so many years, we are creating innovative Storage System Solutions bringing real benefits for our clients and partners and our Mobile Racking System is one of our best products. With our knowledge and experience, we develop modern racking solutions to increase your storage space and optimize all processes in the warehouse. We are focused on complete solutions: design, engineering, installation, inspection and services, and management software solutions.

Since the establishment of our company - and today, more than ever, we are working on numerous projects in all industries and businesses around the globe. This brought us the trust we need and won us the No. 1 leader position in warehousing solutions.
DISCOVER OUR REFERENCES - MOBILE RACKING SYSTEM, FUNCTIONING NOW IN EU:
Do not hesitate and REQUEST AND OFFER HERE
We are sure, our warehouse systems not only meet your needs but also contribute to the success of your business.
Mobile Racking System may be a successful storage system for your warehouse. Let us store your business!
STAMH - Solution for every warehouse.