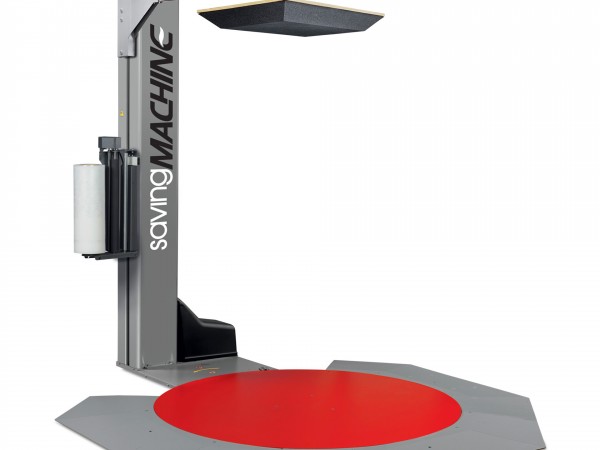 PKG SAVING is an excellent solution for any production or warehouse with higher volume of wrapping. The machine can be equiped with film pre-stretch eMPS system. This system, depending on the type of stretch film, can achieve 150/200/250 or 300% pre-stretch, thus saving up to about 40% of the expenses for packaging. As option a top pressure unit can be installed, which makes it possible to wrap pallets with very light and unstable loads.
Available in following platform options:
Standard version - standard platform with 75 mm height. Normal ramp with 1,5 m lenght is necessary to load pallets on the machine with pallet truck.
Transpallet (TP) version - platform with chanels for easier loading with pallet truck. A much shorter ramp is need, which saves space.
Slim Base (SB) - special low platform, only 25 mm high with short rapms to make loading and unloading from any direction easier and more safe.
Technical data
SAVING MB
SAVING EB
SAVING eMPS
Carriage type
Mechanical brake (MB)
Electric brake (EB)
Electric brake with pre-stretch (eMPS)
Film stretch
20-50% (mechanical)
20-50% (mechanical)
150/200/250/300%
(motorized fixed)
Film tenssion adjustment
Mechanical
Electric
Electric
Recommended stretch film
ENOxtreme
ENOxtreme
ENOevopower / ENOfuture
Turntable diameter
1500/1650/1800/2200/2400 mm
Max. pallet size
1200х800/1200х1000/1350х1200/1550х1550/1700х1700 mm
Max. pallet weight

1200 kg (TP and SB versions)

2000/3000 kg (Standard version)

Max. wrapping height
2200/2500/2700/3000/3300/3700 mm
Platform height
75 mm (Standard and TP) / 25 mm (Slim Base)