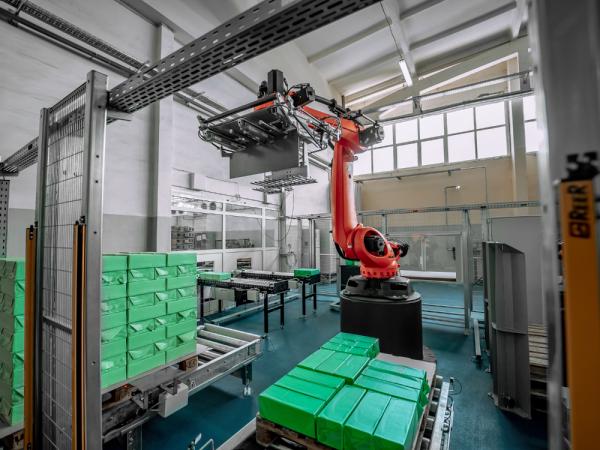 Robotic palletizing systems and cells are designed to improve, optimize and speed up the processing of cartons or stacks, avoiding hard manual work. They are created to increase drastically your productivity!
DESCRIPTION OF THE SYSTEM
The pallets processing
A pallet dispenser feeds empty pallets to the system, and roller conveyors and special transfer modules for pallets deliver it to the palletizing area - within the range of the industrial palletizer. These robots are created to cover a payload capacity range from 40 to 1300 kg. per cycle, during very long periods of time with 100% workload. When the pallet is ready, it is transported to a fully automatic wrapping machine. Once foiled, the pallet is ready for transportation or storage and the next palletizing cycle has already begun.
The products processing (boxes or stacks)
Stacks of boxes enter the robotic cell, through a conveyor system for boxes. They are automatically transported to the palletizing area. When a certain number of boxes or stacks (4,6,8 etc. - depending on their dimensions) is accumulated, the industrial palletizing robot picks them up, using a special gripper, and arranges them on the pallet, in a predetermined order.