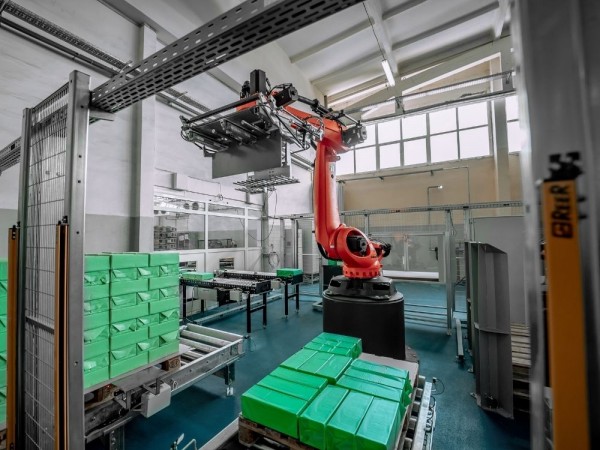 CAPABILITIES OF THE PALLETIZING ROBOTS
Industrial palletizers have extended reach and maximum strength. They are programmed for long periods of 100 % workload and cover a payload capacity range from 40 to 1300 kg. per item and cycle. *You can see the best palletizing robots models in the table on this page and contact us for more information.
The immediate result of the implementation of one or several industrial palletizing robots and a palletizing system is the reduction of each single work cycle times and multiplied productivity - much more pallets per hour and lower costs for operators and staff.
INDUSTRIAL ROBOTS FOR PALLETIZING AND THEIR APPLICATIONS
Palletizing and depalletizing robots can handle single or grouped products or packaging units, depending on their tasks, gripper, and programming. Whether it's boxes, cartons, trays, bottles, etc., industrial palletizing robots can operate at up to 56 cycles per minute.
The operations they perform are simple, complex, or mixed. The grippers of these robots can be adapted to different shapes and weights of the palletized items, exceeding human capabilities of weight handling and speed.
In combination with conveyors and conveyor systems, palletizing robots significantly accelerate all intralogistics processes like preparing a pallet for expedition or depalletization of incoming goods.
MAIN ADVANTAGES OF PALLETIZING ROBOTS
Economical: the minimal maintenance costs of these robots and the long service life make them extremely cost-effective and desired solutions;
Compact: robots with a small footprint and extended reach - possible integration into existing systems;
Robust and durable solutions at an affordable cost;
Fast and efficient: programmed for 100% workload for long periods of time;
Diverse solutions: with different ranges, payload capacities, and grippers, depending on your needs;
ROBOTS FOR PALLETIZING AND DEPALLETIZING
Payload capacity
Reach
Axis
KR 40 PA
40 kg.
2091 mm.
4
KR 120 R3200
120 kg.
3195 mm.
5
KR 180 R3200
180 kg.
3195 mm.
5
KR 240 R3200
240 kg.
3195 mm.
5
KR 300-2 PA
300 kg.
3150 mm.
5
KR 470-2 PA
470 kg.
3150 mm.
5
KR 700 PA
700 kg.
3320 mm.
4
KR 1000 1300 titan PA
1300 kg.
3202 mm.
5
KR 1000 L950 titan PA
950 kg.
3601 mm.
5