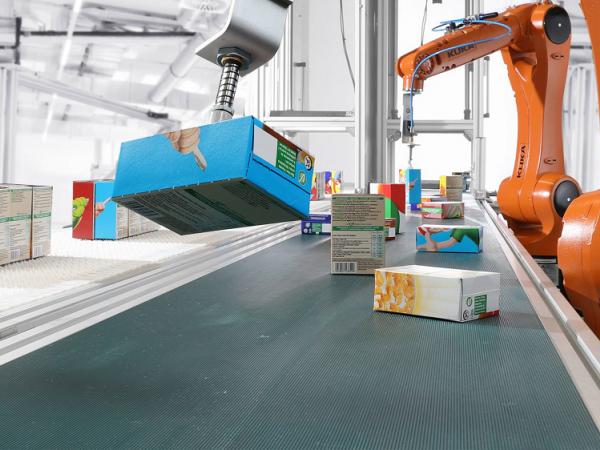 CAPABILITIES OF THE PACKAGING ROBOTS
Packaging robots are very flexible and can perform any task in the packaging process. They are much faster, more accurate, and efficient, without any particular restrictions on the weight, size, or shape of the products to be packaged.
INDUSTRIAL ROBOTS FOR PACKAGING AND THEIR APPLICATIONS
These robots perform a wide range of tasks, such as placing one or more products in boxes, cartons, or other packaging units at the same time, including delicate foods and items. Packaging robots can perform fast and precise arrangement and re-ordering of shuffled items, opening, filling, sealing, coding, and labeling activities.
ESSENTIAL BENEFITS OF THE PACKAGING ROBOTS
Drastic reduction of labor costs;
High return on investment;
Increased packaging productivity;
Speed, efficiency, and 100% workload capacity;
PACKAGING ROBOTS MODELS
Payload capacity
Reach
Axis
KR 40 PA
40 kg.
2091 mm.
4
KR 120 R3200 (KR QUANTEC)
120 kg.
3195 mm.
5
KR 180 R3200 (KR QUANTEC)
180 kg.
3195 mm.
5
KR 240 R3200 (KR QUANTEC)
240 kg.
3195 mm.
5
KR 300-2 PA
300 kg.
3150 mm.
5
KR 470-2 PA
470 kg.
3150 mm.
5
KR 700 PA
700 kg.
3320 mm.
4
KR 1000 1300 titan PA
1300 kg.
3202 mm.
5
KR 1000 L950 titan PA
950 kg.
3601 mm.
5