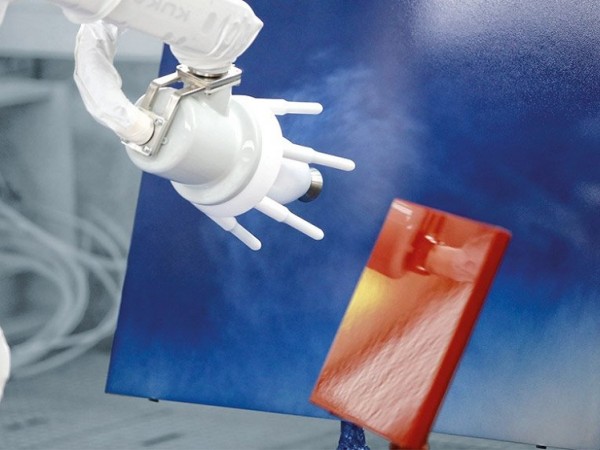 CAPABILITIES OF THE INDUSTRIAL PAINTING ROBOTS
Painting robots have a very wide range of different applications for painting or coating. High-precision painting is achieved thanks to the robot axes, some of which are used for basic movements and others - for precise pointing of the applicator.
Robots can apply different coating on, following complex trajectories and painting items with different thicknesses, according to your needs and requirements.
The exceptional productivity and impressive flexibility allow efficient processing and robotic coating of objects of different sizes, shapes, and characteristics. Painted items can be both standard and complex, assembled and irregularly shaped - with multiple angles, curves, holes, protrusions, and/or recesses.
APPLICATIONS OF THE INDUSTRIAL PAINTING ROBOTS
Robots and robotic systems are used for coatings and painting in aviation and space technology, mechanical engineering, medical products, construction, furniture industry, and electronics.
Painting robots and various applicators can be quickly and easily programmed to work with water-based or solvent-based coatings, powder or liquid solutions, glosses, or sprays. These robots are capable to apply thick or transparent coatings, adhesives, paints, varnishes, stains, binders, or primers.
MAIN BENEFITS OF THE PAINTING ROBOTS
This is an opportunity to save between 25% and 30% of the paint materials;
Reduced staff costs;
Fast return on investment;
Robotics solutions prevent damage, reducing exposure to harmful chemicals and fumes;
Reduced need for cleaning working areas;
Long cycles with 100% workload, without risk of fatigue of repetitive movements;
Constantly high quality of the covered surfaces - uniform thickness of the coatings, without excessive deposition, gaps, drops, and traces of leakage;
Numerous mounting and installation options - on the floor, walls, ceiling, rails, and other suspended structures;
PAINTING ROBOTS MODELS
Payload capacity
Reach
Axis
KR AGILUS
3 -10 kg.
706,7 – 1101 mm.
6