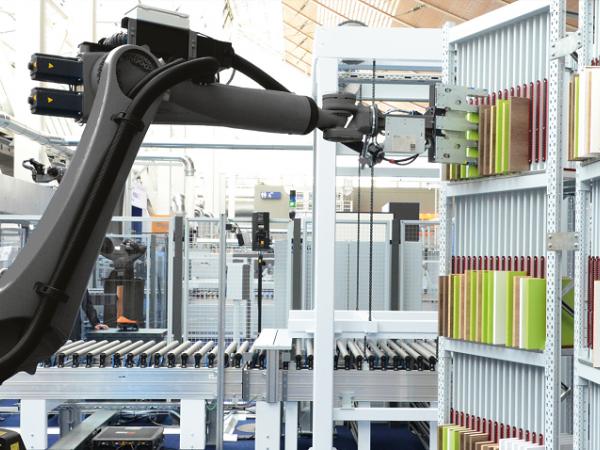 CAPABILITIES OF THE INDUSTRIAL SORTING ROBOTS
The lack of errors and the precision of these machines make industrial sorting robots extremely efficient solutions. Some sorting robots are able to maintain a constant linear velocity of 2 m/s for long periods of time, while they collaborate effectively with other systems.
The capacity and speed of each sorting operation per minute are incomparably greater than with the human workforce.
POSSIBLE APPLICATIONS OF THE SORTING ROBOTS
In a fully automated sorting line or system, you can involve the most suitable conveyors and conveyor systems and robots to perform repetitive simplified, or complex tasks.
Sorting robots are able to handle frozen food, confectionery, frozen meat and fish, cheese, pet food heavy packages, medicines, shampoos and perfumes, glassware, flasks, and heavier materials such as boards, profiles, or long and heavy loads, unbearable for a person.
Robotic sorting is perfect, when you need to distribute heavy products, the number of operations is very large and needs to be done quickly. Robotic systems are also perfect when operations need to be performed in a harmful or inappropriate environment.
Sorting robots can load conveyor lines and systems, to achieve accelerated and stable production processes.
MAIN ADVANTAGES AND BENEFITS OF SORTING AND ROBOTS
Increased sorting speed - very important for perishable products;
Minimized losses and practically, no errors;
Reduced human labor costs;
Fast return on investment;
Ability to work in environments with reduced oxygen or refrigerated warehouses or logistics centers;
SORTING ROBOTS MODELS
Payload capacity
Reach
Axis
KR AGILUS
6 - 10 kg.
706,7 - 1101 mm.
6
KR CYBERTECH
8 - 22 kg.
1612 мм.- 2013 mm.
6
KR 30-3 and KR 60-3
30-60 kg.
2033 mm.
6
KR 40 PA
40 kg.
2091 mm.
4
KR QUANTEC PA
120 - 240 kg.
3195 mm.
5
KR 300-2 PA / KR 470-2 PA
300 кг. - 470 kg.
3150 mm.
5
KR 700 PA
700 kg.
3320 mm.
4
KR 1000 titan PA
750 - 1300 kg.
3202 - 3601 mm.
6