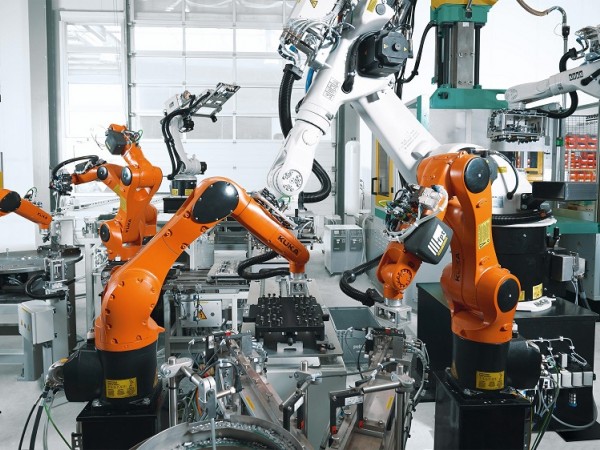 CAPABILITIES OF THE INDUSTRIAL ASSEMBLY AND MOUNTING ROBOTS
Assembly, using industrial robots and robotic systems, is one of the most important processes in the manufacturing industry. The capabilities of the industrial assembly robots are numerous – handling different tools, connecting different stages in the assembly line or single and complex operations in the assembly process, even quality control.
APPLICATIONS OF THE INDUSTRIAL ASSEMBLY AND MOUNTING ROBOTS
The robotization of assembly processes makes possible your competitiveness and adaptability to the high requirements 4.0 Industry. The accelerated demand for constant innovation and shorter innovation cycles of each product, make industrial robots a very helpful solution. They can be quickly and accurately re-programmed to assemble your new products.
MAIN BENEFITS OF THE ASSEMBLY SYSTEMS WITH ROBOTS
Fast delivery and installation of the industrial robotic solution, including software and programming;
Ability to work with different tools;
Highly efficient robotic cells for assembling elements of different types, shapes, and weights;
Possible integration in all parts of the assembly process;
ASSEMBLY AND MOUNTING ROBOTS MODELS
Payload capacity
Reach
Axis
LBR iiwa
7 - 14 kg.
800 - 820 mm.
7
KR 3 AGILUS
3 kg.
541 mm.
6
KR AGILUS
3 -10 kg.
706,7 – 1101 mm.
6
KR CYBERTECH
8 – 22 kg.
1612 – 2013 mm.
6
KR CYBERTECH nano
6 – 10 kg.
1420 – 1820 mm.
6
KR 30
16 – 30 kg.
2033 – 3102 mm.
6
KR IONTEC
30 – 70 kg.
2100 – 2500 mm.
6
KR QUANTEC
120 – 300 kg.
2700 – 3100 mm.
6
KR QUANTEC nano
120 – 180 kg.
1573 – 2100 mm.
6
KR QUANTEC pro
90 – 120 kg.
2496 - 2696 mm.
6
KR QUANTEC press
100 – 120 kg.
3455 – 3501 mm.
6
KR QUANTEC extra
90 – 210 kg.
2495 – 3095 mm.
6
KR QUANTEC prime
90 – 240 kg.
2496 – 3701 mm.
6
KR QUANTEC ultra
120 – 300 kg.
2467 – 3901 mm.
6
KR 360 FORTEC
240 – 360 kg.
2826 – 3326 mm.
6
KR 500 FORTEC
340 – 500 kg.
2485 – 3326 mm.
6
KR 600 FORTEC
420 – 600 kg.
2826 – 3326 mm.
6
KR 1000 titan
750 – 1300 kg.
3202 -3601 mm.
6