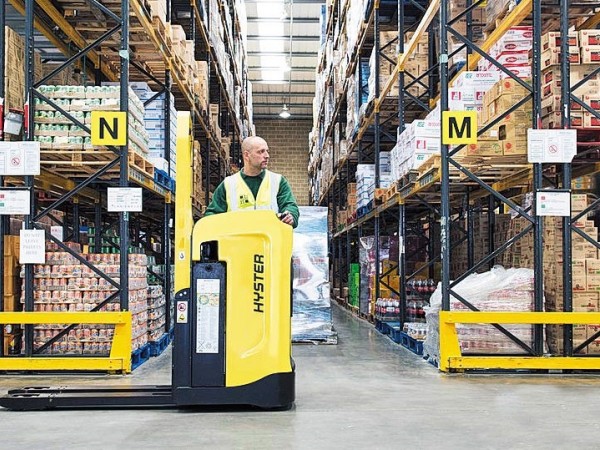 Offering excellent manoeuvrability, control and visibility, the tough Hyster® Rider Stacker delivers good acceleration and fast travel and lift speeds for the most demanding applications.
Ideal for stacking and retrieving goods at various heights, the Hyster® Rider Stacker transports goods over short and longer travel distances and manoeuvres in racking and shelving in tight spaces, ensuring low ownership costs.
Hyster® Rider Stacker highlights:
Available with 2-stage and 3-stage masts up to 6,020mm, the Rider Stacker can work in aisle widths as small as 2.5m. The rated capacity is 1,600kg
Operators can sit during long traction runs or lean when operating in back of the trailer. The new patented seat design features a swinging seat cushion and fixed back rest, the operator can adjust between the horizontal seat and vertical lean / stand position at the push of a button
This tough stacker features a completely welded stiff and strong base frame. The side panels are made from 5mm pressed steel, built into the exterior of truck to reduce risk of damage, and the single piece bumper is 10mm thick with no splits or bolted joints
Users gain high productivity thanks to seamless changes in travel direction, increased cycle speeds and the control of pallet handling operations. There is full AC infrastructure on drive and steering motors
Powerful acceleration comes from the new, improved Hyster traction motor which gives an increased travel speed of up to 12 km/h for superior performance
Forced air cooling fitted to the traction motor and controllers, contributes to high performance and efficiency
Smooth load handling and precise direction control are provided by the adjustable speed reduction on cornering feature. Two different steering modes: Standard steering and Reverse steering as option
Mini lever for hydraulic functions within finger reach
More comfort, less fatigue and easier to get on and off:

A low 297mm step height and 470mm entry
The driver comfort is enhanced through large floor area (0.217m2) allowing operators to take up various comfortable positions reducing fatigue over long shifts
A suspended floor plate and cushioned floor mat reduces shocks felt by driver
The operator presence switch ensures that the driver's foot is always within the driver compartment
Storage is available below armrest and in front of drivers legs (optional)

Ease of access for serviceability:

Side panels are bolted to the frame enabling straightforward removal for servicing or replacements
Hinged floor plate, with gas strut stay, enables quick access to caster wheel and hydraulic unit for inspection or top up of fluids
Two diagnostic points within operator compartment are conveniently located for easy connection and all fuses are easily accessible.

Regenerative braking recovers energy and increases the braking effect to help reduce maintenance costs
2 different fork lengths to match demanding applications requirements and other options available
High level of parts commonality with other Hyster products with proven reliability and durability for ease of maintenance.
| | |
| --- | --- |
| Model | RS1.6 |
| Load capacity (kg) | 1600 |
| Lift height (mm) | 6020 |
| Ast (wide / long) (mm) | 2523 / 2501 |
| Battery capacity (v / ah) | 24V / 465Ah |
| Weight (kg) | 1643 |