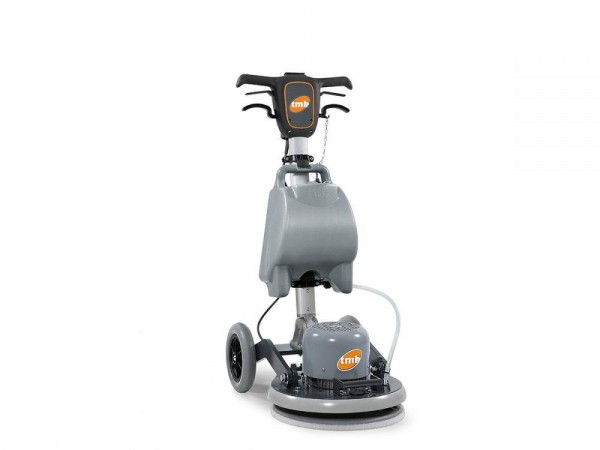 Two movements in one: rotary orbital. Simultaneously with the natural rotational motion of the disk, which can range from 0 to 90 rpm, machines with an orbital system always generate a constant orbital motion that allows them to pass through the same point many times very quickly.
On surfaces such as hardwood floors, resilient floors, wood, resin, and carpets, it creates rotational motions about 1 cm in diameter, with 1400 rpm. This guarantees extremely fast cleaning, polishing, crystallization, etc.
Due to the orbital motion, the water remains within the perimeter of the disk and will not be scattered around. Due to this technology, the
consumption of water and detergent is drastically reduced.
One machine for multiple functions. The rotary orbital system guarantees that all operations can be performed on different types thanks to its versatility and the availability of specific accessories that make the machines multifunctional.

All spray versions of TPO, TFO and TOR include a detergent tank, pump, nozzles and a 3-position handle switch.
Option for TOR and TFO - Suction kit including: vacuum device with additional nylon filter, support, dust guard, flexible hose connection, 32 and 40 mm diameter TOR metal cuff and 32 and 40 mm TFO plastic cuffs.
Pressing the TFO 43 DS and TOR 43 DS dual speed switch will change the number of oscillations per minute from 1400 to 2800. This speed is recommended for dry polishing and crystallization with natural fiber pads and for polishing polishing and protective emulsions.
Model
TPO 43 / TFO 43 / TOR 43 EXTRA
TPO 43 Spray /
TFO 43 Spray /
TOR 43 Extra Spray

TFO 43DS / TOR 43DS
Power
1100 W
1100 W
1100 W
Brush size / drop
43 cm
43 cm
43 cm
Oscillation
1400 nr.
1400 nr.
1400 - 2800 nr.
Revolutions per minute
90 rpm
90 rpm
90 - 180 rpm
Weight
41/50/65 kg
42/51/65 kg
50/65 kg