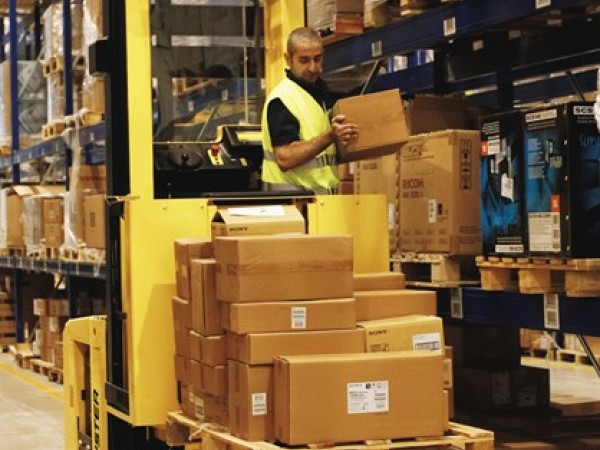 Tough and reliable for time sensitive order picking operations, the Hyster K series of medium and high level order pickers is designed to enable the best use of space and deliver a low cost of operation.
The Hyster K Series order picking trucks feature rising cabs to help operators to pick individual items at medium to high locations, maximising pick face access for the duration of a shift.
Hyster Medium and High Level Order Picker Highlights:
Solid stability at height is delivered by the robust mast construction, with high torsional strength at up to 8 metres high
Strong, welded compact chassis structure enhances manoeuvrability and allows reliable load handling even in high racking
A lower cost of operation is achieved by the progressive speed control, which helps to reduce energy consumption
An extensive range of lifting heights helps to optimise warehouse space, for reduced operational costs
The AC drive motor is virtually maintenance free and the CANbus wiring system enhances communication between truck systems which, together with onboard diagnostics, simplifies maintenance. The fixed vertically mounted motor provides easy maintenance access, further reducing costs
Forks on all K series order picker models can be raised or lowered independently from the cab
A wide range of customised options that includes cold store, various cab widths, rail or wire guidance and end of aisle slow down and stop options, makes the K series adaptable to suit virtually any operation requirements.
| | | | | | | | | | | | |
| --- | --- | --- | --- | --- | --- | --- | --- | --- | --- | --- | --- |
| Model | K1.0L AC 0.7 FC | K1.0L AC 15 FC | K1.0L AC 12 | KK1.0L AC 12 SL | K1.0L AC 17 SL | K1.0L AC 17 WP | K1.0L AC 48 SL | K1.0L AC 48 WP | K1.0M | K1.0H | K1.0H |
| Load capacity (kg) | 1000 | 1000 | 1000 | 1000 | 1000 | 1000 | 1000 | 1000 | 1000 | 1000 | 1000 |
| Lift height (mm) | 690 | 1410 | 1010 | 1010 | 1510 | 1510 | 4627 | 4627 | 4670 | 5170 | 8895 |
| Platform height (mm) | - | - | 1190 | 1190 | 1690 | 1690 | 4807 | 4807 | 4920 | 5420 | 9145 |
| Ast (wide / long) (mm) | 1400 / 1000 | 1400 / 1000 | 1400 / 1000 | 1400 / 1000 | 1400 / 1000 | 1196 | 1400 / 1150 | 1196 | 1400 / 1200 | 1400 / 1300 | 1400 / 1400 |
| Battery capacity (v / ah) | 24V / 560Ah | 24V / 560Ah | 24V / 560Ah | 24V / 560Ah | 24V / 560Ah | 24V / 560Ah | 24V / 560Ah | 24V / 560Ah | 48V / 310Ah | 48V / 420Ah | 48V / 560Ah |
| Chassis width (mm) | 796 | 796 | 780 | 780 | 780 | 780 / 996 | 950 | 950 / 996 | 1000 / 1000 | 1100 / 1100 | 1100 / 1200 |
| Weight (kg) | 1550 | 1750 | 1600 | 1700 | 1800 | 2000 | 2665 | 2865 | 2890 | 3255 | 4065 |