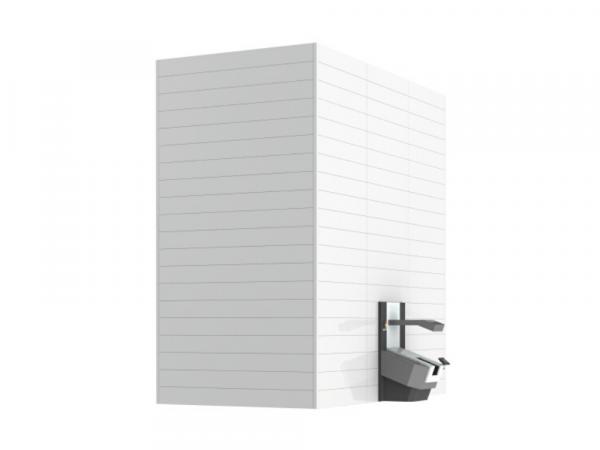 THE INNOVATIVE PICKING STATION
The rotating platform is a key element in the buffer module. It is inclined at an angle of 20⁰, making it ergonomic and accessible. The bin is always presented to the operator in an ergonomically optimal position.
TIME OPTIMIZATION FOR EACH PICKING OPERATION
While the operator is executing an order, the next bin or tray is prepared and placed in the back shelf of the rotating platform. Once the operator has completed the execution, the platform rotates 180⁰ and the next bean is ready for operation.

CONNECTION WITH CONVEYOR SYSTEMS
Vertical buffers can be easily connected to existing conveyor systems:
For manual storage and retrieval of bins and trays;
For automatic operations and transfer to the existing material flow;
The connection to the conveyor can be installed on different sides of the device, as needed.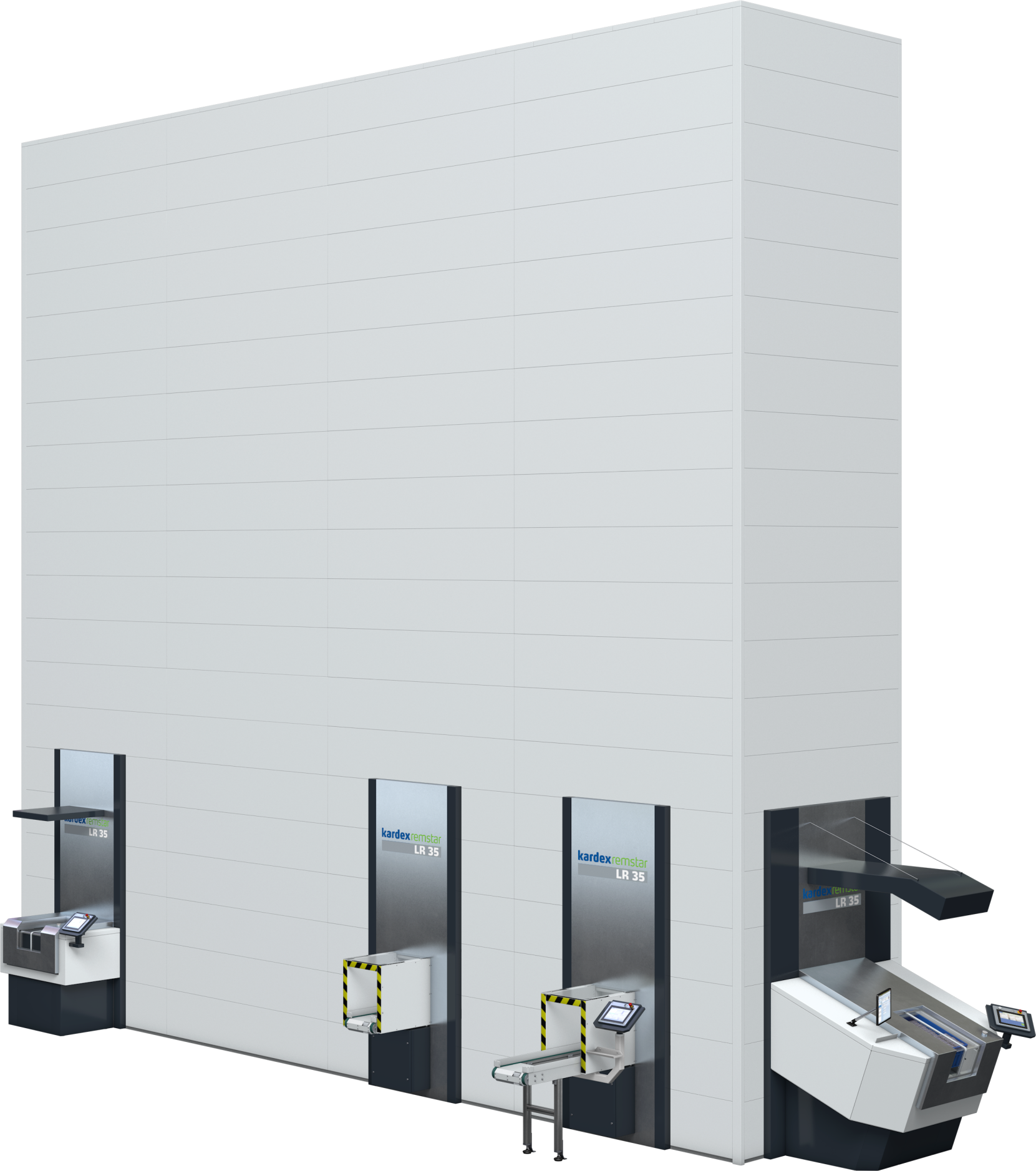 SINGLE AND WELL INTEGRATED FLOW
The Servus ARC Communication Hardware combines incoming goods, warehousing, production and outgoing goods in an optimal and fast flow process.
SYSTEM SOFTWARE
Perfect hardware requires optimal software: WEB based - the efficient and high-performing software of Kardex Remstar supports you at every step.
POSSIBLE APPLICATIONS OF THE VERTICAL BUFFER MODULE
Supply: suppliying the production line with wide range of items with differet characteristics, weight and size simultaneously
Buffer storage: intermediate storage intermediate of products in the assembly area;
Selection: the system the can be used in the process of selecting and pre-assembling of items, needed for the assembly process;
Storage: the system creates new storage possibilities. For example - automation in cycle-dependent internal flow;
ADVANTEGES
High productivity: Kardex Remstar LR35 significantly improves picking and sorting performance. With the integration of FramePick solution you can achieve reduced walking distance, space saving, less personnel and increased order picking performance.
Energy efficient: Kardex Remstar LR35 uses only 1/3 of the energy compared to other systems;
Adaptation to stored goods: the system can operate with both - trays or storage bins;
Integration: the system can be quickly and easily integrated into existing production, warehousing or software systems. Kardex Remstar LR35 connects to existing conveyor systems or to intra-logistics transport systems with or without an operator.
Management: LR 35 is controlled by an innovative touch screen that displays all the information in an easy and understandable way. The touch screen has a high resolution and allows faster control and significantly reduces the error rate.
Short implementation time: basically, no staff training time is required;
Security: the high-value parts and items that you store and commission are stored safely and securely, thanks to the controlled access to the system;
| | |
| --- | --- |
| Kardex Remstar LR 35 | |
| Technical date | Options |
| Performance* | - Several access openings per unit |
| - High order picking performance based on bin cycles and number of order lines | - Different access opening designs |
| - Max. Total load 63t | - Automatic connections of existing conveyor technology |
| *Depending on unit design and process | - LED pointer |
| Bin | - Position indicator |
| - Standart mini - load system campatible bins | - LED lighting |
| - 600x640 mm (up to 640x440mm) | - Barcode scanner |
| - Load 35kg/bin | - ESD version |
| Unit dimensions* | - Sokets and interfaces |
| - Wight 1.920 to 10.470 mm | - Optical status signals |
| - Dept 2350 mm | - Confirmation buttons |
| - Height 3000 to 12 000 mm | - RFID scanner for user login |
| *Bin dimensions 600mm x 400 mm | - Vesa bracket for monitor |
| Unit vertical step | - Clearance control |
| - 100mm step | - Preparations for fire protection system |
Kardex Remstar vertical buffer module will become a successful Storage System for your warehouse. Select the Kardex Remstar vertical buffer module from STAMH.
Take a look at our photos, videos and projects with LR 35. Download our catalogs and more.
CASE STUDY: KARDEX - 13 ways to do more with less