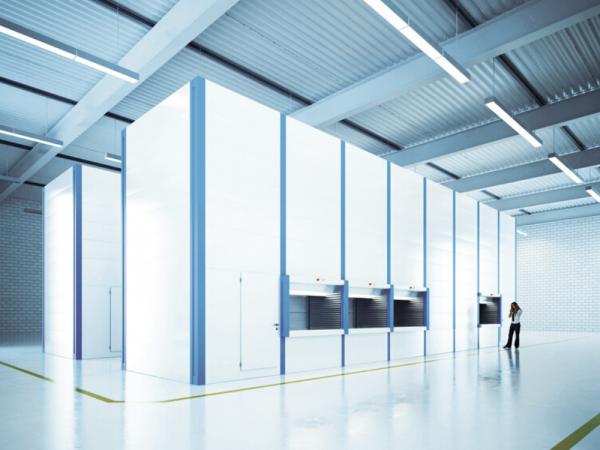 The Shuttle XP module is a system designed for storage and commissioning in all areas of production, distribution, retail and warehousing logistics. The system automatically delivers trays of items or goods to the person.
Thanks to Shuttle XP, we can provide:
Higher storage density at all vertical levels;
Increase storage capacity up to 85%. Optimal use of vertical space;
Fast and exact access to each item using only one button or barcode scan;
Fast delivery of the necessary items, directly to the person. Thus, we can increase the speed and productivity up to 2/3;
Shuttle XP means ergonomics and security in storage;
PRINCIPLE AND MODE OF OPERATION
Shuttle XP is a closed system. Trays are stored vertically in the front and back of the structure. A retrieval device is located in the center. Shuttle XP automatically delivers the requested tray with the relevant items to the access opening.
The fact that Shuttle XP is a modular system allows us to change the height and number of modules, as well as access openings, both before and after construction.
In addition, Shuttle XP automatically scans each stored tray using Optiflex technology, finding the perfect storage space and optimizing storage density.
FEATURES OF SHUTTLE XP FOR PERFECTION
Entrances for access with automatic door closer. Protection of the operator and stored goods through a light curtain.
Reduced noise levels.
Shuttle XP allows commissioning in advance - the operator works with one tray while the extractor prepares the next one.
Internal weight management system - monitors the load on the tray and the system to prevent overload.
The Shuttle XP system allows different load types - trays with different load capacities can be stored in the same device, providing reduced costs and flexibility for long-term operation.
The design can be changed before or after installation.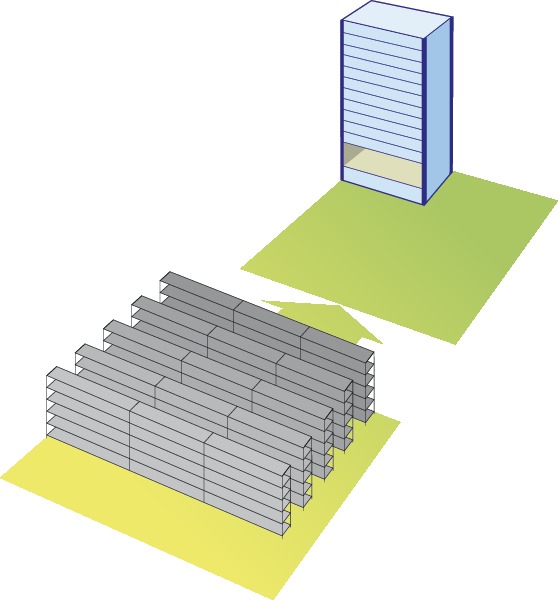 FEATURES OF SHUTTLE XP FOR PERFECTION
Up to 85% more storage space on a minimal surface area;
Reduce production or warehousing costs thanks to the automated processes;
With up to 2/3 for fast diving and delivery of the necessary items;
Increased turnover of goods during storage and commissioning;
Protection and safety for operators and stored goods;
Improved ergonomics;
Modular extensibility of each UNIT
Shuttle XP 250/500
Tehnical date
Options
Unit dimenstions
- LED/laser pointer
Wight
1.580 to 4.380 mm
- Alphanumeric or matrix position display
Depth
2.312 to 4292 mm
- Confirmation bar
Height
2.550 to 30.050 mm
- ESD design
Unit Heignt pitch
- Automatic tray runner
100mm steps
- Manual Tray runner
Performance date
- Transit trolley
Vertical speed adjustable up to 2.0 m/s
- Swivel arm for control unit
Storage/retrieval speed adjustable up to 0.7 m/s
- Double/multiple opening
Maximum load 67/120t
- Tray locking mechanism
Trays
- User administration
Wight
1.250 to 4.050 mm
- Logicontrol 200unit control system
Depth
610 to 1.270 mm
- Factory - fitted crane
Height
2.550 to 30.050 mm
- Special trays for pallet storage
Storage space pitch
25 mm
- Tray runner for forklift operation
Min. Tray spacing
75 mm
- Up to six access openings per unit
Maximum load 67/120t
up to 560 kg
- Forklift operation in front of the unit
Special options
- Vertical Photo Cells for monitoring the shaft
- Cooler/freezer configurations to -25
- LED position display
- Heated units to +60
- Vario position display
- Class 100-100.00/ISO Class 5-8 cleanroom applications
- TIC matrix
- Controlled atmosphere (5% relative humidity/ 10% reltive humidity)
- Auxiliary system
- Fire protection (water/gas)
- Weighing system
- Automation
- Explosion protection
Undoubtedly, the vertical lift system Kardex Remstar Shuttle XP will become a successful Storage System for your warehouse. Take a look at our photos, videos and successful projects with Kardex Remstar Shuttle XP vertical lift system. Download our catalogs and more.
CASE STUDY: KARDEX BULGARIA - 13 ways to do more with less