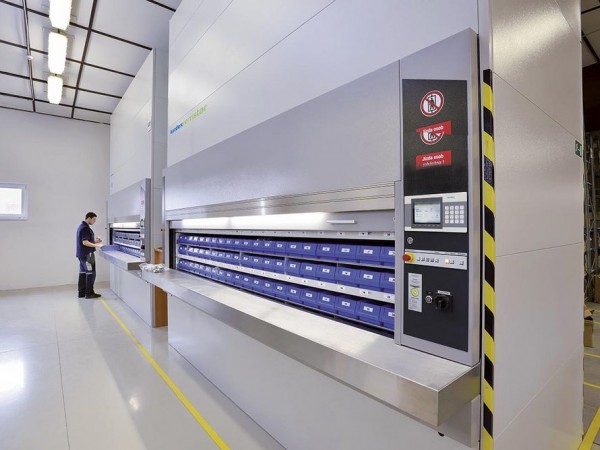 Principle
Based on the way in which a paternoster works, the Megamat RS is an automated vertical carousel that provides quick and precise access to stored goods. The Megamat RS is especially suitable for frequently accessed goods, because it conveys the right carrier to the access opening via the shortest possible path.
The design of the Megamat RS offers maximum storage space on a minimal footprint. This facilitates efficiently designed work processes and also significantly raises productivity. The Megamat RS can easily be installed as a freestanding vertical carousel or integrated into a building over several floors up to a height of ten metres with more than one access opening. Each Megamat RS can be used as a stand-alone solution or connected to a networked system, thereby ensuring supreme efficiency, flexibility and individuality.
The Kardex Remstar Megamat RS is a secure investment in the future.
Energy-saving technology - Instead of recovering energy, avoid using it in the first place. Thanks to the perfect interaction between the electric motor, highly efficient transmission and precision- calibrated frequency converter, the Megamat RS now consumes up to 40 per cent less energy, thereby significantly cutting life cycle costs (TCO).
Control system and software The Megamat RS is equipped with the Logicontrol® machine control system, which also provides a simple way of entering the world of software-supported warehouse management. That's because managing storage locations, articles and stock – the classic tasks of any warehouse management software – is possible with Logicontrol without the need for additional expense and hardware. As a result, even operators of small, less complex storage spaces or stand-alone solutions now have the opportunity to optimise their material fl ow. With the "drive and view" feature, the system can also run without warehouse management. By optionally using Kardex Remstar Power Pick® Global software or other warehouse management systems, it is possible to permanently optimise storage spaces, stock and order picking performance. The orders are guided safely, quickly and precisely through the warehouse with the help of Power Pick Global and are promptly made available for shipping.

Benefits at a glance:
High cycle speed – fast access to all stored goods
Increased storage space thanks to highly dense storage facility
Able to keep pace with new innovations and future developments thanks to the modular system structure
Maximum use of space on a minimal footprint
Extensive safety features and ergonomic design
Technical information
Unit dimensions
Megamat RS
180
350
650
Wight
1875 to 3875 mm
1875 to 4275 mm
1875 to 4275 mm
Height min.
2210 mm
2360 mm
2360 mm
max.
7510 mm
2360 mm
10010 mm
Depth
1251 mm
1271 mm
1311 mm
1441 mm
1471 mm
1511 mm
1631 mm
1671 mm
1711 mm
Special demensions on reguest
Usable carrier dimensions
Unit Options (selections):
- ESD design
- Divided frame side panels
- Several access opening
- Position indicator
- Additional data interfaces
- Function profile for the ergonomi- cally affixing accessories
- User managment
- Multiple operating languages