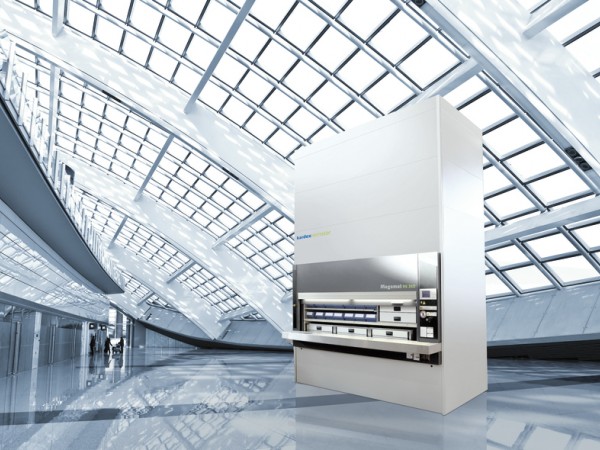 KARDEX REMSTAR MEGAMAT RS 180/350/500
Automated vertical carousel, which functions as a paternoster and works on the principle "goods to the person". Excellent for goods with high access frequency. Ideal for medium weight loads.
PRINCIPLE OF THE AUTOMATED VERTICAL CAROUSEL
Automated vertical carousel Kardex Remstar Megamat RS provides fast and precise access to stored goods. The Megamat RS is particularly suitable for frequently available items - it automatically moves the correct tray to the access opening in the shortest possible way.
MODELS
KARDEX REMSTAR MEGAMAT RS 180
Efficient storage and fast picking of lighter goods
Extremely suitable for textile goods or small items in containers;
Used in medicine, car manufacturing and mechanical engineering and electronics;
KARDEX REMSTAR MEGAMAT RS 350
Solution suitable for components, tools and auto parts
Each individual tray can be loaded with up to 350 kg.
KARDEX REMSTAR MEGAMAT RS 650
For heavier loads. Each tray can be loaded with up to 650 kg.
The system can be integrated in the production process;
Can be used as an intermediate for semi-finished products;
Also used as storage buffer during the drying phase;
DESIGN
The design of the Megamat RS is oriented towards maximum storage space with a minimum area. It simplifies work processes and significantly increases productivity.
The Megamat RS can be easily installed as a free-standing vertical carousel or integrated into a multistorey building. It can reach a height of 10 m. With more than one access entrance. Each Megamat RS can be used as a standalone solution or connected to a network system, thus providing greater efficiency, flexibility and individuality.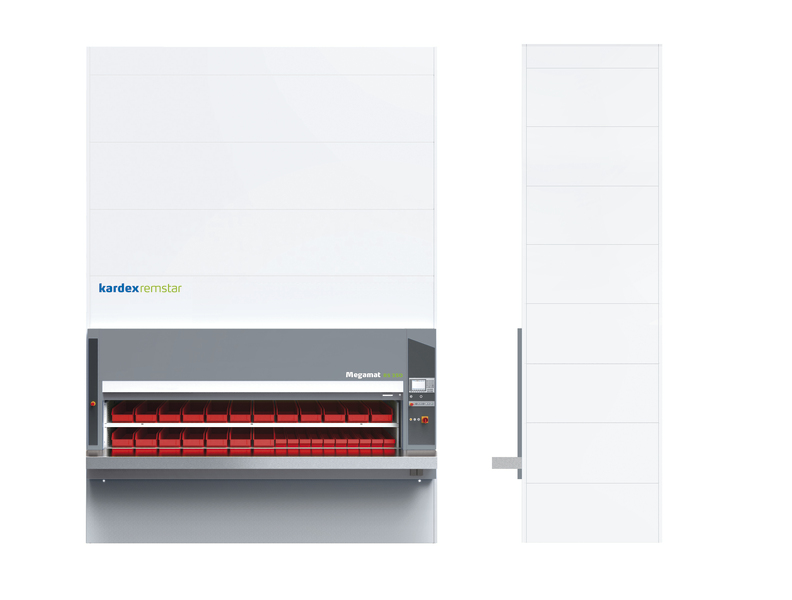 Energy saving technology - instead of recovering energy, avoid using it.
Thanks to the perfect interaction between the electric motor, the highly efficient transmission and the precisely calibrated frequency converter, Megamat RS consumes up to 40% less energy, significantly reducing maintenance costs.
Megamat RS is equipped with a Logicontrol® Management System, which provides an easy way to enter the world of software warehouse management without additional hardware costs.
Management of all stored items and goods becomes easy and accessible for reduced number of operators. Thus, it is now possible for owners of small warehouses, with a lower degree of complexity or automation to optimize the material flow and increase productivity.
With the "drive and inspection" function, the system can also operate without warehouse management software.
CONSTANT OPTIMIZATION OF STORAGE SPACE
With the optional use of Kardex Remstar Power Pick® Global Software or other warehouse management systems, continuous storage space optimization is possible.
Orders are processed safely, quickly and accurately - prepared for delivery.
BENEFITS OF INSTALLING MEGAMAT RS
ORGANIZATION AND OPTIMIZATION
Up to 60% more storage space;
Different configuration of stored items - in trays, boxes, envelopes or cartons ...
Increased storage space due to the tight use of the vertical space;
Can be installed as an individual module or as an integrated system of several modules.
DIRECT BUSINESS BENEFITS
High speed of each working cycle - fast and accurate access to the required item;
Increased productivity;
Technology that saves energy and time;
Reduces the unit production price of each product produced / stored.
Technical information
Unit dimensions
Megamat RS
180
350
650
Widht
1875 to 3875 mm
1875 to 4275 mm
1875 to 4275 mm
Height min.
2210 mm
2360 mm
2360 mm
Height max.
7510 mm
2360 mm
10010 mm
Depth:
1251 mm
1271 mm
1311 mm
1441 mm
1471 mm
1511 mm
1631 mm
1671 mm
1711 mm
Special demensions on reguest
Usable carrier dimensions
Unit Options (selections):
- ESD design
- Divided frame side panels
- Several access opening
- Position indicator
- Additional data interfaces
- Function profile for the ergonomi- cally affixing accessories
- User managment
- Multiple operating languages
The automated vertical carousel Kardex Remstar Megamat RS will become a successful Storage System for your warehouse. Choose the automated vertical carousel Kardex Remstar Megamat RS from STAMH.

Take a look at our photos, videos, successful projects with the automated vertical carousel Megamat RS. Download our catalogs and more.

CASE STUDY: KARDEX BULGARIA - 13 ways to do more with less
STAMH - Solution for every warehouse.