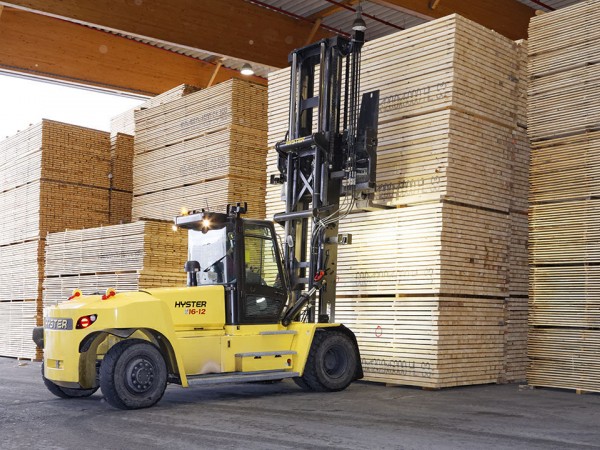 The most universal to date, the latest heavy-duty 13-16T models from Hyster® provide optimal visibility, strength and reliability, making handling and transportation easier than ever.
Each model gives outstanding power and reliability with fast attachment exchange as well as optimum visibility of the forks, the attachment, and the load.
These Hyster heavy duty forklifts excel in the toughest environments, delivering low cost of ownership in particular in metal handling, construction materials, paper handling or port applications with high duty cycles and extreme operating conditions.
Highlights:
The robust frame and wide drive axle ensure 'rock solid' stability and long-term durability when handling loads at full capacity;
Featuring 2-stage masts with extended range of pin or hook type carriages. Intelligent design has increased the residual capacity on each truck by at least 400kg for the side shift pin type carriage;
More space between mast channels gives enhanced visibility of the attachment and load. The chains are on the outside of the mast;
Operators can look through and over the carriage which helps provide ideal levels of visibility for ground level and lorry bed height manoeuvres. Carriages have slimline top bars with an intelligently located valve block;
Reduced "lost load" centres: the more open design results in less weight on the carriage and gets the load closer to the truck;
For quick attachment change, the dual function sideshift and fork positioning carriage (DFSSFP) with hook type mounting allows for quick disconnect;
Class leading lifting speeds, with the practical 4-modes feature, the trucks achieve impressive averages between 0.40m/s and 0.69m/s with full nominal capacity up to 6250mm;
Stage IV compliant, producing lower emissions and offering up to 20% fuel savings compared to the previous generation of product, significantly reducing lifetime costs;
Stage IV compliant versions features the Cummins QSB6.7 diesel engines with max 125kW output at only 2300 rpm;
In addition to the Cummins engine technologies, Hyster has also introduced new performance optimisation developments such as cooling on demand, load sensing hydraulics (power on demand), RPM management and alternate engine idle speed to help further reduce the total fuel consumption in most applications;
The ECO-eLo Fuel Efficiency Mode can be used which reduces the maximum engine speed and optimises fuel efficiency even more
Stage IIIA options are available for un-regulated regions outside the EU and North America featuring the Cummins QSB6.7 diesel engine with max 116kW output at only 2300 rpm;
Hyster "Vista" cab, offers an outstanding range of standard ergonomic features, plus excellent all-round visibility, to ensure ease of operation;
The H10-16XM-6-12 models include oil immersed 'wet disc' brakes which feature oil cooling for durability and are virtually maintenance free;
Unobstructed access to the engine compartment and conveniently located check points, contribute to rapid, efficient maintenance;
The CANbus Communications system used to manage the electronic systems ensures reliable operation of the truck;
Driver assist features including a drive view camera are now standard;
Easy road transportation: there is a low closed mast height and the entire range is less than 2.55m wide;
Built for extreme ambient temperatures from -18 degrees C up to 50 degrees C for the diverse and challenging needs of heavy industry anywhere in the world;
A wide range of options and attachments can be added. For example four mast mounted work lights, rear-view camera, wide/thin blades for timber, load stabilisers, Hyster Tracker and more.
| | | | | |
| --- | --- | --- | --- | --- |
| Model | H13XM-6 | H14XM-6 | H10XM-12 | H16XM-6 |
| Load capacity (kg) | 13500 | 14500 | 10500 | 16500 |
| Load centre (mm) | 600 | 600 | 1200 | 600 |
| Lift height (mm) | 7000 | 7000 | 7000 | 7000 |
| Engine | Cummins QSB 6.7L Diesel | Cummins QSB 6.7L Diesel | Cummins QSB 6.7L Diesel | Cummins QSB 6.7L Diesel |
| Transmission | ZF WG161 3-speed Hydrodynamic Transmission | ZF WG161 3-speed Hydrodynamic Transmission | ZF WG161 3-speed Hydrodynamic Transmission | ZF WG161 3-speed Hydrodynamic Transmission |