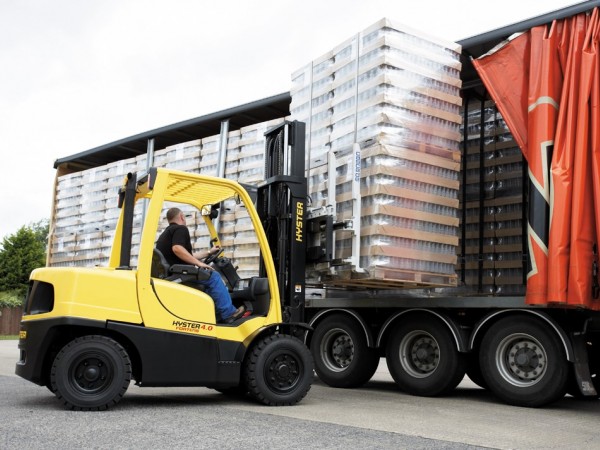 Designed for high intensity applications particularly where front end attachments are needed, the H4.0-5.5FT Fortens® series provides continuous strength and reliability.
With 3.6L and 3.8L diesel or 3.8L LPG engines, these reliable machines feature the new ECO-eLo Fuel Efficiency Mode, making it one of the most fuel efficient IC forklifts for sale in this capacity range, delivering a low cost of operation.
Available with Fortens, Fortens Advance and Fortens Advance+ configurations, the series can be tailored to suit the specific application, no matter how challenging.
Highlights:
A robust chassis and high strength mast design optimises capacity retention at high lifts with excellent visibility and rigidity
The ECO-eLo Fuel Efficiency Mode reduces fuel consumption by up to 20% with limited effect on overall diesel truck productivity under application conditions
Available Load Sensing Hydraulics (LSH) increase productivity and lowers fuel consumption further reducing overall operating costs
All powertrains are controlled, protected and managed by the Pacesetter VSM industrial onboard computer featuring a CANbus communications network. This system permits adjustment of the truck's performance, in addition to monitoring key functions, enabling quick, easy diagnostics, minimising repair downtime and unnecessary parts swapping
Choose either Electronic Powershift, DuraMatch™ or DuraMatch™ 2 transmissions:

The standard Fortens model features 1 or 2 speed Electronic Powershift Transmissions
The Fortens Advance models feature the 1-speed DuraMatch™ or 2-speed DuraMatch 2 transmissions which manages truck deceleration & direction changes, contributing to extending brake and tyre life and preventing transmission wear
The Fortens Advance+ models feature the DuraMatch™ 2, featuring Extended Drawbar Pull

All Hyster H4.0-5.5FT diesel and LPG models feature oil immersed brakes contributing to reduced maintenance and extended truck dependability
The maintenance free Hyster Stability Mechanism (HSM) enhances lateral stability without compromising uneven surface travel
An innovative operator compartment design offers easy driver access, excellent all-round visibility and conveniently located controls. To optimise driver comfort, the full-suspension seat, together with the isolated powertrain have contributed to achieving a low whole body vibration (WBV) of 0.6m/s2 and operator ear noise levels are low
Complete cowl-to-counterweight service access contributes to rapid, efficient maintenance. Simplified layout of wiring and hydraulics offers greater access to components, which decreases service time for unscheduled repairs and regular maintenance
Hassle-Free hydraulic systems featuring Leak-free O-ring face seal fittings enhance reliability and non-mechanical, Hall-Effect sensors and switches are designed to outlast the life of the truck
To match the performance to the application there are a number of options including advanced hydraulic and cooling system options.
| | | | | | | | | | | | | | | | | | | |
| --- | --- | --- | --- | --- | --- | --- | --- | --- | --- | --- | --- | --- | --- | --- | --- | --- | --- | --- |
| Model | H4.0FT-5 | H4.0FT-6 | H4.5FTS-5 | H4.5FT-6 | H5.0FT | H5.5FT | H4.0FT-5 | H4.0FT-6 | H4.5FTS-5 | H4.5FT-6 | H5.0FT | H5.5FT | H4.0FT-5 | H4.0FT-6 | H4.5FTS-5 | H4.5FT-6 | H5.0FT | H5.5FT |
| Model designation | Fortens | Fortens | Fortens | Fortens | Fortens | Fortens | Fortens Advance | Fortens Advance | Fortens Advance | Fortens Advance | Fortens Advance | Fortens Advance | Fortens Advance + | Fortens Advance + | Fortens Advance + | Fortens Advance + | Fortens Advance + | Fortens Advance + |
| Load capacity (kg) | 4000 | 4000 | 4500 | 4500 | 5000 | 5500 | 4000 | 4000 | 4500 | 4500 | 5000 | 5500 | 4000 | 4000 | 4500 | 4500 | 5000 | 5000 |
| Load centre (mm) | 500 | 600 | 500 | 600 | 600 | 600 | 500 | 600 | 500 | 600 | 600 | 600 | 500 | 600 | 500 | 600 | 600 | 600 |
| Lift height (mm) | 6000 | 6000 | 5300 | 5300 | 5300 | 5300 | 6000 | 6000 | 5300 | 5300 | 5300 | 5300 | 6000 | 6000 | 5300 | 5300 | 5300 | 5300 |
| Engine | Kubota 3.6L Diesel | Kubota 3.6L Diesel | Kubota 3.6L Diesel | Kubota 3.6L Diesel | Kubota 3.6L Diesel | Kubota 3.6L Diesel | Kubota 3.6L Diesel / Kubota 3.8L Diesel / Kubota 3.8L LPG | Kubota 3.6L Diesel / Kubota 3.8L Diesel / Kubota 3.8L LPG | Kubota 3.6L Diesel / Kubota 3.8L Diesel / Kubota 3.8L LPG | Kubota 3.6L Diesel / Kubota 3.8L Diesel / Kubota 3.8L LPG | Kubota 3.6L Diesel / Kubota 3.8L Diesel / Kubota 3.8L LPG | Kubota 3.6L Diesel / Kubota 3.8L Diesel / Kubota 3.8L LPG | Kubota 3.8L Diesel / Kubota 3.8L LPG | Kubota 3.8L Diesel / Kubota 3.8L LPG | Kubota 3.8L Diesel / Kubota 3.8L LPG | Kubota 3.8L Diesel / Kubota 3.8L LPG | Kubota 3.8L Diesel / Kubota 3.8L LPG | Kubota 3.8L Diesel / Kubota 3.8L LPG |
| Transmission | Electronic Powershift 1-speed / Electronic Powershift 2-speed | Electronic Powershift 1-speed / Electronic Powershift 2-speed | Electronic Powershift 1-speed / Electronic Powershift 2-speed | Electronic Powershift 1-speed / Electronic Powershift 2-speed | Electronic Powershift 1-speed / Electronic Powershift 2-speed | Electronic Powershift 1-speed / Electronic Powershift 2-speed | DuraMatch™ 1-speed / DuraMatch™2 2-speed | DuraMatch™ 1-speed / DuraMatch™2 2-speed | DuraMatch™ 1-speed / DuraMatch™2 2-speed | DuraMatch™ 1-speed / DuraMatch™2 2-speed | DuraMatch™ 1-speed / DuraMatch™2 2-speed | DuraMatch™ 1-speed / DuraMatch™2 2-speed | DuraMatch™2 2-speed | DuraMatch™2 2-speed | DuraMatch™2 2-speed | DuraMatch™2 2-speed | DuraMatch™2 2-speed | DuraMatch™2 2-speed |