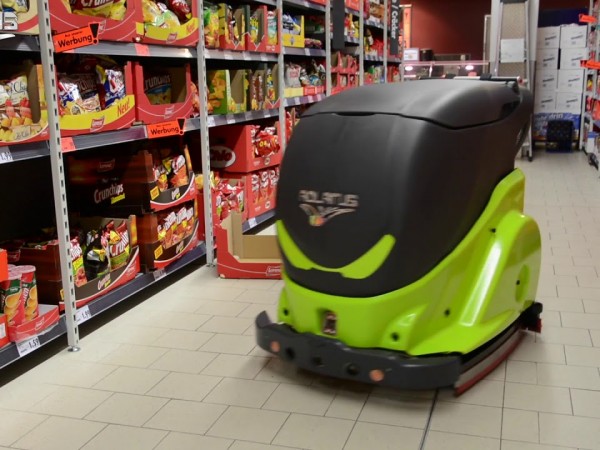 STAMH Tech is official dealer of Adlatus Robotics (Germany), a company specialized in development and production of autonomous machines, and cleaning machines are main focus. Adlatus CR700 is the best and fully functional machines on the market today!
The Adlatus CR700 is a revolution in the field of cleaning machines, enabling autonomous cleaning of large areas without the need for a machine operator. Extremely compact and fully automated machine that can be switched to manual mode if needed. Its powerful sensors and fast data processing allow it to confidently detect objects, such as people and objects, depending on the environment in which it operates. With an easy-to-use user-friendly interface, the Adlatus CR700 can be started by cleaning staff without any hassle. There is also an option for manual operation, whereupon the operator uses the intuitive touch screen of the machine to control the operating functions. The same can be done remotely from a mobile device such as a tablet or smartphone. The machine has a 2 liter preparation container and an automatic dosing system. This guarantees optimum concentration of the cleaning solution and economy of the preparation.
The CR700 has a Service station to which automatically returns to draining dirty water, recharging with clean water, or recharging the batteries.
Main advantages:
Advanced navigation system
Charging and service station
Automatic dosing system
Control and management via a mobile device
Intuitive multifunction display
Model
Adlatus CR700
Power supply
Batteries 24V
Productivity
1500 m2/h
Cleaning width
70 cm
Clean water tank

120 l

with automatic filling and draning

Dirty water tank

68 l

with automatic draining

Work time
5 hours